Lucasfilm president teases the Marvel-ization of Star Wars after 'Episode IX'
No more trilogies for Star Wars. So what comes next?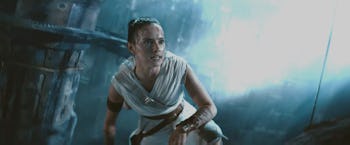 Lucasfilm
What worked for Marvel might work in a galaxy far, far away. In a new interview, Lucasfilm President Kathleen Kennedy hints at the end of "trilogies" for Star Wars and a more fluid structure to how its stories are told. Could this be the cure for so-called Star Wars fatigue and a path forward after Episode IX: The Rise of Skywalker airs this weekend?
In an interview with the [Los Angeles Times]((https://www.latimes.com/entertainment-arts/business/story/2019-12-15/kathleen-kennedy-lucasfilm-the-last-jedi-the-mandalorian), published Sunday, Kennedy said the future of Star Wars will move away from its tried-and-true trilogy format, which Lucasfilm apparently found "restricting." We don't know what will replace it, but all Kennedy was willing to reveal was that the franchise's old model of "beginning, middle, and end" is on the way out.
"I think it gives us a more open-ended view of storytelling and doesn't lock us into this three-act structure," Kennedy said. "We're not going to have some finite number and fit it into a box. We're really going to let the story dictate that."
The next Star Wars movie is set to release in 2022, three years after The Rise of Skywalker.
A shift away from trilogies feels like a big deal for Star Wars. But mainstream movie audiences are used to that now thanks to two words: Marvel Studios.
Although sequels and spin-offs are the name of Marvel's game, the film studio has uniquely innovated sequential storytelling without the need for strict, three-film installments. Sure, some of its biggest franchises had or will have trilogies (Iron Man, Captain America, Thor, Guardians of the Galaxy), but the stories of those characters continued after the climactic "third" films.
Robert Downey Jr.'s Tony Stark/Iron Man appeared in five movies after 2013's Iron Man 3 (he starred in 2015's Avengers: Age of Ultron, 2016's Captain America: Civil War, 2017's Spider-Man: Homecoming, 2018's Avengers: Infinity War, 2019's Avengers: Endgame). Tony still saw major development beyond his own trilogy.
Chris Hemsworth's Thor wasn't totally defined until 2017's Thor: Ragnarok, his third solo movie and fifth film appearance. And there will be yet one more movie with 2021's Thor: Love and Thunder before the character officially bows out for good. Similarly, Chris Evans' Captain America evolved in the four Avengers movies outside his core trilogy.
Although Lucasfilm dipped its toes into a Marvel-like film franchise with prequel spin-offs like 2016's Rogue One: A Star Wars Story and 2018's Solo: A Star Wars Story, those movies never felt life necessary viewing in the way that every Marvel movie feeds into a bigger, ongoing story.
There are also currently no more Star Wars anthology films in development, and fans are unclear what the next movie will be. Meanwhile, Marvel fans know every movie and TV show between now and at least 2022.
Marvel has mastered continuous storytelling in a way not seen since the old era of film serials (which happened to be a major point of influence for George Lucas when he was making Star Wars). It is fitting that Marvel's own chairman, Kevin Feige, is working on his own feature idea for Star Wars, which the Times reports is only in the "early stages." How much Feige will allow himself to use what he's learned from Marvel remains to be seen, and how much that will impact the entire franchise even more-so.
But with the end of the Skywalker Saga, the big theme is clear: Let the past die.
Star Wars: The Rise of Skywalker hits theaters on Friday.