Here's when the Roci crew returns for 'The Expanse' Season 4 on Amazon
It's nearly time to cruise through the Ring Gate and head to Ilus.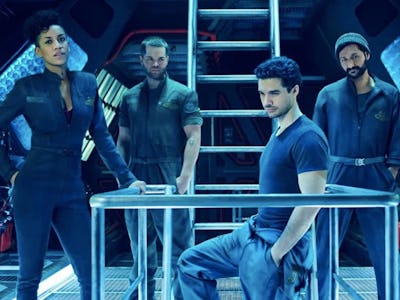 Amazon
It's been a long wait, but Season 4 of The Expanse is nearly here. Season 4 sees the Rocinante crew travel through the Ring Gate to the fledgling colony planet of Ilus, where Belter settlers clash with an Earth-based mining concern and its hard-assed security chief. Add a liberal dash of protomolecule and a planet turning against its inhabitants to the mix, and you've got yourself a party to last all through the weekend.
All 10 brand-new episodes of The Expanse Season 4 will come to Amazon Prime Video on Friday, December 13. Amazon's a little inconsistent with its timing when it comes to uploading new content. Most often, new shows drop at midnight GMT, or 7 p.m. Eastern. In some cases, though, it doesn't happen until midnight local time.
Given Amazon's recent pattern of releasing new batches of original programming a full day early, like Jack Ryan Season 2 and The Marvelous Mrs. Maisel Season 3, there was reason to hope the newest episodes of The Expanse would already be up today. Unfortunately, that doesn't seem to be the case this time around.
In the meantime, you can also tune into a marathon of the show's previous seasons on Twitch. The platform will be streaming Season 3 today starting at noon Eastern time and running until 1 a.m. Friday morning. Esports pro Crimsix will be co-streaming the marathon. The marathon will also feature a live trivia contest, with prizes including Amazon gift cards and autographed Expanse merch.
Season 4 of The Expanse marks a pretty dramatic tonal shift from previous seasons of the show. Instead of spending most of their time aboard the Roci, the crew is on Ilus most of the time, exploring the ruins of a long-dead civilization and managing the simmering tensions between the Belters and the Earthers.
Back in October, Steven Strait, aka James Holden himself, told Inverse, "I've been lucky enough to see the whole season through and I really do think it's our strongest year yet." For the most part, we enjoyed the first six episodes, even if some of the Ilus sequences started to feel repetitive after a while. We found Bobbie and Drummer's storyline's particularly fascinating, and can't wait to see what happens next. If you loved the show's first three seasons, there's no reason not to come back for more.
Every season of The Expanse is available to stream on Amazon Prime Video.