Walmart is testing out delivering groceries with self-driving cars. Are jobs under threat?
Robots could change the grocery game for good.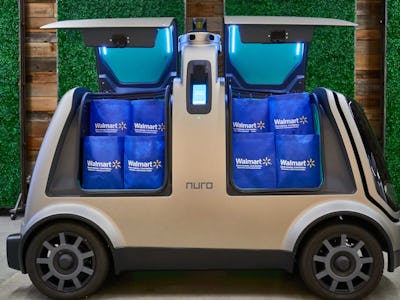 Walmart
If you get your groceries at Walmart, you might soon be able to get them delivered via self-driving car. Walmart announced Tuesday it is testing out delivering groceries in Houston in collaboration with the autonomous vehicle maker Nuro.
Walmart, which is the based in Bentonville, Arkansas and is the world's largest employer behind the United States and Chinese militaries, currently has the option to get your groceries delivered from 1,600 of its stores in the United States. This current delivery program employs over 50,000 personal shoppers, but their futures could be uncertain with the self-driving competition. Tom Ward, senior vice president of digital operations for Walmart U.S., said in a statement that they've been working on this for a while.
"We've been test-driving a number of different options for getting groceries from our stores to our customers' front doors through self-driving technology. We believe this technology is a natural extension of our Grocery Pickup and Delivery service and our goal of making every day a little easier for customers," Ward said. "By continuing to test autonomous vehicle capabilities, we're better able to understand the path self-driving technology can take us down the road."
Essentially, you'll order your groceries through Walmart's app, someone at Walmart will go get the things you wanted from the shelves (until they automate that) and a self-driving car will make its way to your house. It's not seamless: you will have to walk all the way out to the street to get your groceries out of the vehicle. The struggle is real.
It would appear this new program is an attempt to compete with Amazon, which has been testing out delivering packages with a robot called Scout. Those tests are taking place near its headquarters in Washington and in Southern California. Amazon is also testing out doing deliveries using autonomous quadcopter drones.
It's certainly exciting to see all of these different kinds of autonomous vehicles being tested out by major companies, but these companies starting to utilize autonomous vehicles will not come without a cost.
A 2017 report from the Center for Global Policy Solutions found 4 million driving jobs could be killed by autonomous vehicles in the not-too-distant future. That includes delivery drivers, truck drivers, bus drivers and any other type of professional driver you can think of.
"Overall, 2.86 percent of all workers in the United States are employed in driving occupations," the report reads. "Though it is possible that workers displaced by autonomous-vehicle technology may eventually find new jobs at some point, the analysis contained in this paper is focused on the immediate, short-term impact to employment in the transportation sector if a rapid transition to fully autonomous vehicles were to occur."
See also: Automation could kill 800 million jobs within about 15 years
It's true that automation will create jobs that aren't currently very common, but the problem is automation will likely kill more jobs than it creates. If thousands of driving jobs are lost at a company and only 150 new jobs are created, that causes major problems.
I'm excited to have robots delivery me things because I often don't want to talk to anyone, but a lot of people are going to be hurt by the development of autonomous vehicles. There doesn't appear to be a plan to deal with that fact.