'Rick and Morty's peanut butter gargoyle joke savagely mocks Florida, again
It's just the latest in a growing legacy of comedy shows poking fun at the Sunshine State.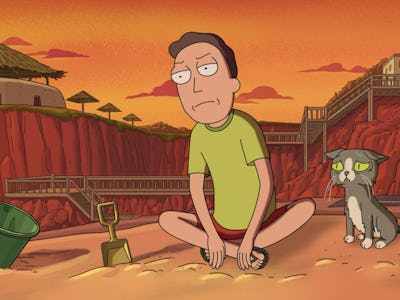 Adult Swim
We may never know the canonical definition of a "peanut butter gargoyle" in the world of Rick and Morty. Based on the limited context from the Season 4 episode "Claw and Hoarder: Special Ricktim's Morty," we know it's some kind of perverse sexual act that people talk about (probably) but never do. If that sounds like the perfect thing for Urban Dictionary, then you're right. One Rick and Morty fan already put up a custom definition up on the website that sounds spot on. (We won't share here, but it involves the cornice of an entablature of a cathedral.)
The more important thing to know about the "peanut butter gargoyle" position is that, as a joke, it furthers an ongoing legacy of beloved comedy series absolutely dunking on Florida in spectacular fashion.
At the start of the episode, the unnamed talking cat voiced by Matthew Broderick convinces Jerry to bring him to Florida. Why? "Because they don't ask questions!" the cat says. "They play volleyball, they party, and they have fun."
We never learn much about the cat other than he's ashamed of how he gained the ability to talk. He wants "to have fun" and likes to "keep it moving." Florida is the perfect casual place to do just that, where you can run away from serious problems and just chill — or at least that's the stereotype.
Later in the episode, the cat ditches Jerry to attend a party on a yacht owned by some jabroni named Jipe with tons of booze and illegal drugs. Nobody gives the cat any attention, so like a regular cat he acts out in erratic ways to irritate people. But because he can talk, instead of swatting a glass bong off a table, he instead interrupts two vapid Florida bros talking about a ridiculous sex position, namely the peanut butter gargoyle.
"Dude, it's when you take the chick, put her feet up on a cathedral—" one of them man says before the cat interrupts. (Blame the talking cat for us never learning the truth here.)
"Sorry to interrupt, guys!" says the cat. "Just want to clarify: Are these real sex positions? Because if they are, how are they gratifying to the male at all? And if the goal is to make something up, why not make up something… funnier?" The two bros toss him off the yacht, not because he's being rude, but because he's overthinking it. "Why don't you overthink shit up north in Georgia!?" one of them shouts.
With the exception of the swelling population of elderly in Florida, the stereotype of your typical Florida resident is a party-focused, vapid person obsessed with illicit substances who cares about nothing beyond having fun. It's a harsh stereotype to be sure, but it's one that's prevalent in comedy. Whether or not it's fair to make fun of Florida like this, it's certainly trendy.
Broad City made fun of Florida in a 2017 episode focused on the gun-toting elderly, and every time Jason Mendoza says something ridiculous on The Good Place — which is often — it feels like a harsh indictment of Florida's penchant for substance abuse and wanton destruction. A Season 3 episode called "The Ballad of Donkey Doug" even brought viewers to Florida in the land of the living, and it made the state's residents look more ridiculous than ever before.
The most relevant example of Florida-bashing in terms of adult animated comedy comes from an excellent Big Mouth Season 3 episode where the main characters Nick and Andrew, visit the Sunshine State. While there, Andrew makes out with his cousin, who happens to be a semi-professional vape artist. You know, just some regular Florida stuff. (For a nicer take on Florida, check out the newly released third season of Amazon's The Marvelous Mrs. Maisel.)
Is Florida really like this at all? The biggest comedies on television want you to think so, and if they're right about Floridians, then they're busy partying to care.
Rick and Morty Season 4 airs Sunday nights on Adult Swim at 11:30 p.m. Eastern.