"Crisis on Infinite Earths" Superman Easter egg teases long-rumored spinoff
'Superman & Lois' get the foundational set-up it needs at the beginning of this year's Arrowverse crossover.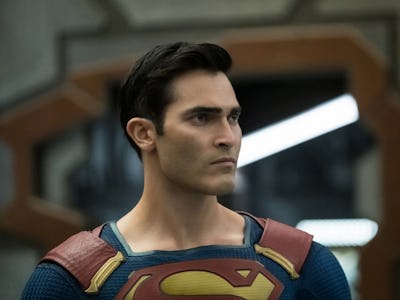 The CW
In the beginning of the 1985 comic book Crisis on Infinite Earths by Marv Wolfman and George Pérez, Superman's origin story gets a twist when, on Earth-3, it's baby Lex Luthor who's placed on a rocket to escape a dying planet. (Also in that reality, Clark Kent is the villainous Ultraman, leader of the Crime Syndicate.) The origin story switcheroo gets a big nod in the TV special of the same name, but its implications are bigger than a single crossover event.
Pay close attention to that Superman Easter egg in the CW's "Crisis on Infinite Earths" it hints at big things to come in Superman's own potential spin-off series.
Warning: Minor spoilers for "Crisis on Infinite Earths, Part 1" ahead.
In "Crisis on Infinite Earths, Part 1," which aired Sunday as an episode of Supergirl, the original comic book gets a big nod when Clark Kent (Tyler Hoechlin) and Lois Lane (Elizabeth Tulloch) place their newborn baby Jon Kent — destined to become Superboy — on a rocket as their home, Argo City, is threatened by the Anti-Monitor and his powerful anti-matter waves.
Eventually, Superman and Lois reunite with baby Jon when his pod ends up in a different Earth in the year 2046. Luckily, he's picked up by Oliver Queen of that Earth, who keeps him safe until Lois, Brainiac, and Sara come looking for him. For now, Jon is right where he needs to be.
This echo between the TV show, with Clark and Lois helping Jon, and the comic where it's Lex who escapes, was confirmed by producer Marc Guggenheim in the Crisis on Infinite Earths: Aftermath talk-show with host Kevin Smith.
But what Guggenheim was resistant to mention (for probably good reason) is that Jon Kent may have a big role in the potentially upcoming Superman spin-off series, Superman & Lois. Originally reported by TVLine, Superman & Lois will be a new series centered on Hoechlin and Tulloch's characters, "the world's most famous Super Hero and comic books' most famous journalist" as they "deal with all the stress, pressures and complexities that come with being working parents in today's society." The series is currently not green lit to air.
Unlike the early '90s drama The New Adventures of Lois & Clark, which starred Dean Cain and Teri Hatcher as Superman and Lois Lane in a will-they, won't-they romantic journey, Superman & Lois will center on more recent comic book storylines of Clark and Lois as the married parents of Jon, their half-human, half-Kryptonian child who shares his father's powers. In the comics, Jon Kent "grows up" (even now, he's still a kid) to become Superboy, teaming up with Batman's son Damian, who currently inhabits the Robin mantle.
With Jon Kent alive and still only in diapers in the Arrowverse, a Superman spin-off series can show a young Jon growing up, wrestling with his human upbringing and half-Kryptonian nature, and learning from his desire to become just like his famous father. It's a different spin than what fans have seen in other Superman shows like Smallville, where Clark Kent only had himself to learn his true identity from, and Supergirl, where it's a twenty-something Kara Zor-El who hopes to step out of the shadow of her cousin.
But Superman & Lois will only happen if The CW deems it to be. Right now, the show is not in any shape beyond internet rumors. "Crisis on Infinite Earths," like "Elseworlds" before it helping to launch Batwoman, is coming off as a backdoor pilot for Superman & Lois with its focus on those characters playing a key narrative role. The crossover has similarly laid the foundations for Green Arrow & the Canaries, another spin-off series set to star Katherine McNamara as Mia, Oliver Queen's daughter who just inherited her father's mantle.
The future of the Arrowverse is still being written, with the ripples of "Crisis on Infinite Earths" yet to be known. The only thing anyone knows for sure is that the Arrowverse will never be the same again.
"Crisis on Infinite Earths, Part 2" airs tonight, 8 p.m. Eastern on The CW.