'V Wars' Season 2 Netflix release date, trailer, renewal, and Dez's fate
Ian Somerhalder's back with the bloodsuckers.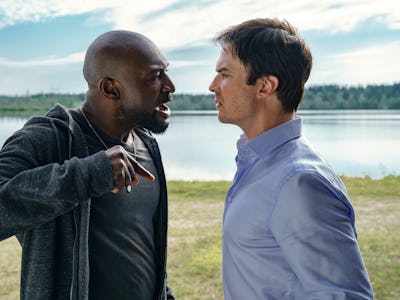 Peter H. Stranks/Netflix
It's been a minute since Ian Somerhalder finished his run on The Vampire Diaries, but he's back among bloodsuckers in the new Netflix series V Wars. Based on Jonathan Maberry's five-book V Wars series, the Netflix show of the same name follows Dr. Luther Swann (Somerhalder), tasked with identifying a new virus which may be turning humans into something very inhuman. As the virus spreads, it affects the lives of Luther's friends and family, forcing the doctor into a life-changing supernatural face-off which could affect humanity's future.
Season 1 dropped on Netflix on December 5, and with this gloomy winter weather practically begging us to binge, you're probably keen to know what the deal is with V Wars Season 2. We've got you covered. Keep reading for all the V Wars Season 2 updates you need.
Minor spoilers ahead for V Wars Season 1. Keep reading if you're finished binging!
Has Netflix renewed V Wars for Season 2?
Netflix has not renewed V Wars for Season 2 yet. To be fair, the first season came out very recently, so there is still plenty of time for a renewal to happen. There isn't a clear pattern to Netflix's process on renewals, so we could hear about it in days, weeks, or months.
When is the V Wars Season 2 release date?
This also depends on if and when the Season 2 renewal is announced. Another big factor in the actual release date is when the show begins pre-production, which will give us a hint at the production timeline, and when Season 2 actually begins filming. There's also a chance Netflix will try to capitalize on this December release window if it proves fruitful in drawing viewers for Season 1, or push it up if the show proves to be quite popular in the next week or two. At this point, it's all up in the air, but our ballpark guess would be December 2020.
Is there a V Wars Season 2 trailer?
There is still no V Wars Season 2 trailer, but that's only because production on Season 2 has yet to begin. For now, you'll have to scratch the itch by re-watching Season 1. We'll keep you posted if and when a Season 2 trailer makes its way to the internet.
Will Ian Somerhalder return for V Wars Season 2?
Somerhalder, both the star and an executive producer on V Wars, is certainly down to return for Season 2 per his latest comments to Digital Spy. In the interview, Somerhalder hinted at his ambitions for the future of the Netflix series, which would include his return to the show.
"It's a really condensed way of telling the story," Somerhalder told Digital Spy of the Netflix TV series format, "and we just kind of scratch the surface. That's why I'm excited to present season one, because I know what's coming, and the subsequent seasons of what we have lined up for the show are, pardon my French, they're fucking sick. They really are!"
Considering Somerhalder's character, Luther, is still alive at the end of Season 1, it stands to reason he'd be back and leading the show once more in Season 2. The same goes for V Wars cast members Adrian Holmes (Michael), Peter Outerbridge (Calix Niklos), Laura Vandervoot (Mila), and many others.
What is the plot of V Wars Season 2?
No plot details for V Wars Season 2 have been revealed yet, but that is only because the show has yet to score a Season 2 renewal.
But fans aren't completely in the dark about where the V Wars story could be headed if a new season is coming down the pike. Over the course of Season 1, we follow Dr. Luther Swann's (Somerhalder) involvement in the tracking of a new virus turning humans into vampires. Things get personal when he discovers his best friend, Michael Fayne (Holmes) has been infected with the virus and rises to become a leader of the rapidly-emerging vampire community who call themselves "Blood Nation."
Luther accidentally exposes his son, Dez (Kyle Breitkopf), to the virus but Dez shows no signs of infection. This tells Luther there may be a way to prevent the spread of the virus. The humans and vampires remain in a stand-off for much of the season, until Luther develops a blood alternative dubbed "BludSub," which would eliminate Blood Nation's need to feed on humans and foster a peaceful co-existence. After the BludSub becomes tainted, the vampires revolt and reject Michael as a leader. Additionally, Dez is kidnapped, leaving Luther desperate to find his son. At the end of Season 2, Luther is approached with information on Dez's whereabouts before the screen cuts to black and leaves the perfect starting point for Season 2.
Additionally, in the same Digital Spy interview, Somerhalder points out there is still a whole lot of story left to tell, hence the desire for a series renewal: "There's five books here. Which is an amazing amount of source material, and it's really well written and numerous graphic novels, which also serve as a visual reference, and a story reference and a character reference."
How can I watch V Wars Season 2?
When V Wars Season 2 finally arrives, you'll be able to watch it the same way you watched Season 1: Netflix. Make sure you're all caught up on Season 1 so you're ready to dive back in when the next batch of episodes arrives.
V Wars Season 1 is currently available to stream on Netflix.