The dawn of a new era: How SpaceX upgraded its tech in 2019
SpaceX's moves in 2019 pave the way for faster global communications.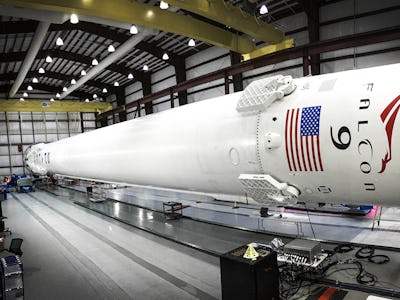 SpaceX
SpaceX's first mission of 2019 marked the end of one of the most ambitious tech upgrades in history.
The company's Iridium-8 launch, which took place on January 13, blasted the final 10 satellites into orbit for the Iridium NEXT constellation.
As the Falcon 9 took off from the Vandenberg Air Force Base in California at 10:32 a.m. Eastern, it marked the completion of the 75-satellite upgrade and paved the way for faster global communications. At the time, SpaceX claimed that replacing so many satellites in one project had never been attempted before.
This is #18 on Inverse's 20 wildest space stories of 2019
It's an incredible feat, but perhaps forgotten amidst the hype of SpaceX's myriad other moves. In November 2019, the company completed two launches of 60 satellites each for its Starlink constellation, designed to offer super-fast internet access and further the broader project of a city on Mars.
The final constellation could reach over 40,000 crafts — astronomers have expressed concern about what such a momentous shift could mean for their work.
Iridium-8: paving the way
While Starlink may transform attitudes toward space policy, the Iridium upgrade that kicked off the year was a landmark in its own way.
Iridium-8 marked the end of a two-year project estimated to cost $3 billion. SpaceX and Iridium worked together to send up 75 satellites, 66 of which are operational. The remaining nine are backups.
The constellation underpins the Certus service, which gives internet access speeds of up to 1.4 megabits per second. Its ability to provide that linkup almost anywhere in the world makes it ideal for maritime, government, aviation and other applications. The new setup also enables the Aireon aircraft surveillance service.
The launch was also notable for the first successful landing of the year. The Falcon 9 landed on the drone ship Just Read the Instructions, stationed in the Pacific Ocean. It was the second outing for the booster, which previously flew on the Telstar 18V mission in September 2018.
The Block 5 booster eventually flew a third time — on May 24, during SpaceX's first Starlink mission that sent up 60 satellites for the company's own internet constellation. The B1049 booster ultimately ended up paving the way for two groundbreaking internet constellations.
As 2019 draws to a close, Inverse is revisiting the year's 20 wildest space stories. Some are awe-inspiring, some are bordering on science fiction, and some are just, well, wild. This is #18. Read the original article here.