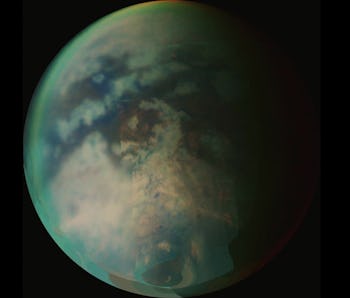 Science
Titan's lakes may have been formed by exploding nitrogen bombs
Just when you thought things couldn't get weirder on Saturn's largest moon...
NASA
Titan is a pretty rough place to be. Saturn's largest moon boasts an icy underworld, caves, volcanoes and methane-filled lakes.
But there is something even more bizarre about the toxic bodies of water that flow on Titan's surface: They may have formed by exploding nitrogen bombs, a September 2019 study suggested.
Scientists had long believed that Titan's infamous lakes formed when methane melted the bedrock of ice on the moon's surface. But a new model based on data gathered by Cassini, a NASA orbiter sent to explore Saturn and its moons in 1997, reveals otherwise.
This is #20 on Inverse's 20 wildest space discoveries of 2019
Radar imagery suggests that nitrogen below the surface may have exploded as a result of temperatures on Titan heating up. Those nitro-bombs may in turn have resulted in craters on Titan — craters which were later filled with liquid. 
Here's how the researchers put it in the study:
We find that the morphology of the raised-rim basins is analogous to that of explosion craters from magma–water interaction on Earth and therefore propose that these basins are from near-surface vapour explosions, rather than karstic. We calculate that the phase transition of liquid nitrogen in the near subsurface during a warming event can generate explosions sufficient to form the basins."
"These lakes with steep edges, ramparts and raised rims would be a signpost of periods in Titan's history when there was liquid nitrogen on the surface and in the crust," Jonathan Lunine, planetary scientist at Cornell University in Ithaca, New York and co-author of the study, said at the time.
NASA is planning a future mission for the year 2026 to explore this strange world, which some astronomers believe may harbor life. The mission, named Dragonfly, will examine Titan's icy terrain and bring back samples to Earth.
For the full lowdown on Titan's lakes, read our original story here.
As 2019 draws to a close, Inverse is revisiting the year's 20 wildest space stories. Some are awe-inspiring, some are bordering on science fiction, and some are just, well, wild. This is #20. Read the original article here.