IKEA is designing shelves for life on Mars
Even Martians need a nice living space.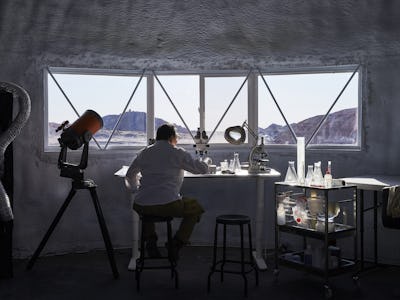 IKEA
Who will decorate Elon Musk's house on Mars? Perhaps IKEA. The Swedish furniture company appears to be the first of its kind to tackle the issue of how we'll create inviting living spaces in the cramped quarters some of us will find ourselves in on Mars.
The company's interior designer Christina Levenborn spent three days in the Mars Desert Research Station (MDRS) in Utah to come up with ideas for a line of products that were specifically designed for small spaces two years ago. Levenborn and other designers from IKEA recently returned to the station to redesign the enclosed area for researchers who are studying how humans will survive on Mars.
The MDRS has been around since 2001, and it was designed by a space advocacy group called the Mars Society. It features a greenhouse, an observatory, and other facilities that researchers use to conduct experiments and study how humans could sustain themselves on the red planet. The people who put this place together weren't really thinking about the space's feng shui when they designed it, so IKEA's interior designers helped them spruce the place up.
"We tried to work with products for a small,-space living situation that could be arranged in a flexible and multifunctional way," Levenborn said. "For the habitat, we brought products on wheels for mobile living, stools for seating and table surfaces and stackable chairs for saving space."
The MDRS has a appears to have a roomy amount of communal space and not much in the way of private space, which was inspired by living spaces found in the Arctic. Dr. Robert Zubrin, president of the Mars Society, said in a statement that he found people tend to spend most of their time in communal spaces in scenarios like this, so they decided to prioritize those spaces.
"In a small space where many people have to share workspaces, it is important to be able to adjust to everyone's needs, whether they prefer to work standing or sitting," Levenborn said. "Same thing with the stools that are adjustable and can be used either for sitting or as a table surface. The chairs are stackable, and the trolley is easy to move around."
See also: SpaceX: Elon Musk Explains How "It's Possible" to Build a Mars City by 2050
It's important that the space where people are going to be spending all of their time makes them feel comfortable and has a cohesive design so people don't go nuts living there. In tight quarters like this, that means every detail matters. Getting a chance to design a space as unique as the MDRS also presents people like Levenborn a unique opportunity to test their abilities.
"We always want to test and improve our range, and from MDRS, we hope to learn more about living in extremely small spaces and how our products can be used," Levenborn said. "There is also knowledge to gain about the scarcity of material, repurposing and sustainable living. Preparing for this kind of scarcity on Mars puts a focus on all the good things we have on earth that we take for granted."