J.J. Abrams reveals expanded role of the Knights of Ren in 'Rise of Skywalker'
"I definitely wanted to see more of them than we had."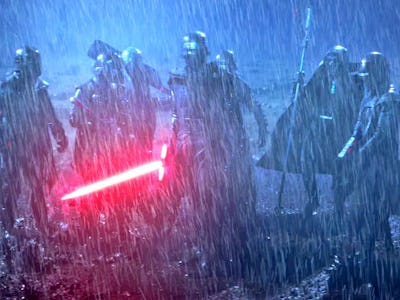 Lucasfilm
As the release date for Star Wars: The Rise of Skywalker approaches, the Knights of Ren remain shrouded in mystery. Their one-off appearance in Rey's vision during The Force Awakens became even more confusing after The Last Jedi didn't expand on their backstory. The Knights of Ren are poised to play a more significant role in The Rise of Skywalker, and director J.J. Abrams recently teased the reasons behind their return.
While we still know very little about the Knights of Ren and how they'll factor into Episode IX, Anthony Daniels' book, I Am C-3PO - The Inside Story, suggests they'll have more to do than simply standing around in the rain during a flashback. Part of why they're so popular among fans is that they're so mysterious, though it turns out they weren't meant to be portrayed that way at all.
According to Abrams, there were "ideas" that would have expanded upon the Knights of Ren's backstories and adventures that "never made it into" The Force Awakens. In an interview with Esquire, Abrams says that the primary reason for their return in The Rise of Skywalker is because the elusive group of fighters didn't appear at all in The Last Jedi.
"They're best kept more mysterious than familiar, which is just to say there aren't going to be a lot of scenes with them taking their masks off and hanging out and eating sandwiches," Abrams elaborated. "But it felt like I definitely wanted to see more of them than we had."
That sounds like a massive oversight, though it's possible the Knights of Ren's backstory had no distinct role to play in Episode VIII. Additionally, Abrams' commentary from The Force Awakens revealed that the Knights of Ren's backstory has been laid out, it just "hasn't been revealed yet." So perhaps we'll finally learn of their origins, after all.
In The Force Awakens, Supreme Leader Snoke called Kylo Ren the "master of the Knights of Ren." This led fans to speculate that the helmet-wearing knights were former students of Luke Skywalker's Jedi school and had trained alongside Kylo before leaving, presumably to join him in the Dark side. This was backed up by Luke's statement in The Last Jedi that Ben Solo had "vanished with a handful of my students."
One fan theory gave them a far more extensive backstory, linking them back to Darth Vader and Emperor Palpatine. Meanwhile, an Easter egg may have revealed the Knights' connection to Darth Maul's Crimson Dawn crime syndicate.
The Rise of Skywalker trailers have shown Kylo fighting against the Knights of Ren, so they're clearly more than just mindless followers. Whatever role they'll play in The Rise of Skywalker, it's good to know that Abrams didn't forget about their existence.
Star Wars: The Rise of Skywalker hits theaters December 20.