Tesla Cybertruck: Elon Musk's EV 'would be sick in a zombie apocalypse'
Pre-order now to avoid the rush.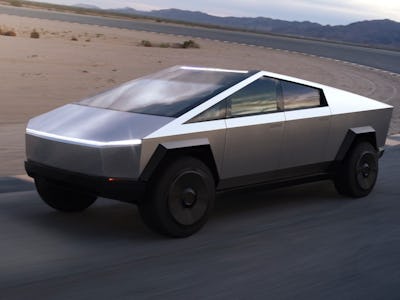 Tesla
Ready to take the fight to the zombies?
The Tesla Cybertruck "would be sick in a zombie apocalypse," the Twitter account for hit TV show The Walking Dead has suggested. The all-electric truck has turned heads since its November 21 unveiling, thanks to its angular design that cuts a radically different image from competitors like the Ford F-150. The vehicle, set to start at $39,900, is expected to enter production in late 2021.
In response, Tesla CEO Elon Musk declared Wednesday that the new vehicle could offer big benefits for those escaping the undead:
"The finest in apocalypse protection technology! Flamethrower optional."
It's perhaps a better suggestion than it first appears. The Cybertruck sports a 30X steel exoskeleton-like body that's been cold-rolled for added hardness. That makes the body incredibly resilient to damage. The steel, Musk claims, is so hard that it makes stamping practically impossible, leading to the striking "planar" approach.
That, combined with a high level of torque that offers towing capacity up to 14,000 pounds, means it could make short work of a slew of zombies.
For Musk, an endorsement from a hit creative work is likely to be highly appealing. Musk's companies have incorporated multiple references from sci-fi culture: SpaceX's drone ships are references to the Culture series of novels, the Tesla Roadster sent into space in February 2018 contains a reference to Hitchhikers' Guide to the Galaxy, and the stereo in said car is currently playing David Bowie's "Life on Mars."
Musk's interest in pop culture came to the forefront again this month, when he made an appearance on an episode of Rick and Morty. Elon Tusk, who works at the Tuskla factory in the episode, was notable for his giant tusks.
Even the Cybertruck may have its roots in science fiction. In the lead up to its unveiling, Musk described it as looking like something out of '80s classic Blade Runner.
As for the optional flamethrower? Musk may be able to help there. The entrepreneur founded The Boring Company at the start of 2017 with a stated goal of building tunnels under cities. To kickstart the venture, Musk started selling caps and flamethrowers emblazoned with the nascent firm's logo. The first 1,000 shipped out to customers in June 2018, dubbed "not-a-flamethrower" in a purported bid to avoid legal scrutiny.
Even the business concept behind the firm taps into classic Musk humor. Musk claimed that he got the idea to fund his company with merchandise from '80s sci-fi classic Spaceballs.
Update 12/2 5 a.m. Eastern time: An earlier version of this story described the Cybertruck steel as being cold-rolled 30 times. It has now been corrected.