Black Lightning in "Crisis on Infinite Earths" is more than just a cameo
The CW's lone superhero finally joins the Arrowverse, and it won't just be a one-time appearance.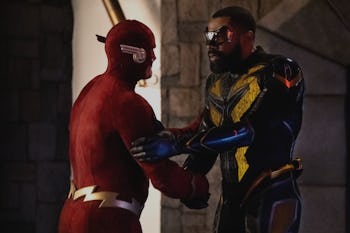 The CW
Of all the heroes joining the Arrowverse in the crossover "Crisis on Infinite Earths," one of them will last longer than just a flash of lightning. Black Lightning, played by Cress Williams in The CW series, is making his debut in DC's television universe, and it could be the beginning of a bold new era for the character.
In an interview with Entertainment Weekly, Williams and producer Marc Guggenheim said Black Lightning's appearance in "Crisis on Infinite Earths," despite being a "last-minute" addition, will play a major role in the plot of the five-part special.
"Black Lightning's in it much more than we ever anticipated, and he's in it in a very significant way," Guggenheim said.
Unlike the other DC superhero shows on The CW, Black Lightning, which premiered in 2018, does not take place in the Arrowverse like Arrow and The Flash. While it's place in the continuity has been unclear, the crossover may finally confirm some theories that the show inhabits a parallel reality.
"Black Lightning gets pulled into the conflict in a very surprising way," Williams said. "He's not prepared for it. So, he doesn't know these people. He's getting introduced into the world for the very first time, and so there's some conflict early on when he's trying to figure out, who are you people and why am I here?"
Guggenheim, who acted as "showrunner" of the crossover, worked with Black Lightning producer Salim Akil to sort out how Jefferson Pierce, a high school principal with lightning powers, can enter the Arrowverse.
While inhabiting different Earths in the multiverse is one thing, it was the miles between Atlanta, Georgia (where Black Lightning is filmed) and Vancouver (the entire Arrowverse) that was its own barrier. "Once we did that, it felt like we had elevated the crossover to another level," Guggenheim said.
Williams teases in the Entertainment Weekly interview that Jefferson Pierce has significant reactions with The Flash (Grant Gustin), Rory (Dominic Purcell), Superman (Tyler Hoechlin), and Supergirl (Melissa Benoist). The door is open for those heroes, and others, to appear in Black Lightning's neck in the woods. "I hope it's not a one-off thing," Williams said. "[The other actors] wanted to come to Freeland, and I definitely wanted to come back to them."
Given that the original 1985 comic book miniseries Crisis on Infinite Earths ended with a single, streamlined continuity, it may actually be possible for Black Lightning to strike more than twice in the Arrowverse.
"Crisis on Infinite Earths" begins on December 8 at 8 p.m. Eastern on The CW.