Did Lindelof just confirm when Doctor Manhattan is coming to 'Watchmen'?
It was only a matter of time...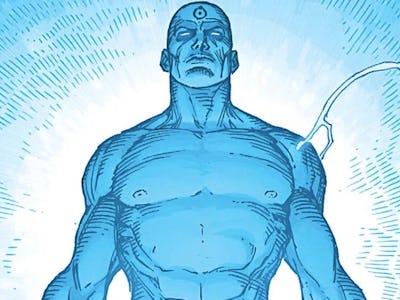 DC Comics
I'm tired of this Earth, these people, this Watchmen HBO sequel with no Doctor Manhattan. Five episodes in, and the only actual superhero in this superhero story still hasn't shown up. Based on initial trailers, we know he's coming eventually, but fans are beginning to worry that it might not happen until the very end of the show. However, a recent comment from series creator Damon Lindelof himself could confirm exactly when Doctor Manhattan with show up in HBO's Watchmen.
Warning: Spoilers ahead for Watchmen so far and possible through the season finale.
It all started on Instagram, where Lindelof has been posting various Watchmen memes. However, after Episode 5 aired, one fan commented on his most recent post asking, "You're gonna make us wait 'til last episode for Doctor Manhattan, aren't you?"
In response, Lindelof wrote, "That would be unnecessarily cruel."
That's not exactly a denial, but it seems to suggest that we won't have to wait until Watchmen Season 1's final episode to get a glimpse at the big blue guy. However, if you're hoping that means Manhattan will show up next week, we may have some bad news.
HBO hasn't officially revealed episode titles beyond Episode 6, but IMDb seems to have the full list, and Watchmen Episode 8 is particularly interesting…
"A God Walks into a Bar" seems like a direct reference to Doctor Manhattan, though, to be fair, these episode titles have been pretty abstract so far. Still, if any of the upcoming episodes will feature Manhattan heavily, it's almost sure to be Episode 8 — at least, based on the alleged titles.
As for what kind of role Doctor Manhattan will play, we have no idea. As far we know, he's still on Mars, though a TV news broadcast in Episode 1 seemed to show him destroying some sort of house he'd constructed on the red planet. Meanwhile, we learned in Episode 5 that Adrian Veidt is actually being imprisoned on one of Jupiter's moons (not Mars), though he seems to be broadcasting a message for his old nemesis. "Save Me D—" could easily continue to read "Save Me Doctor Manhattan." Right?
Either way, we'll likely know for sure in just a few short weeks. Until then, keep those Doctor Manhattan theories coming.
Watchmen airs Sundays at 9 p.m. Eastern on HBO.