Elon Musk praises China's space industry after reaching big milestone
Musk has previously voiced his support for a new space race.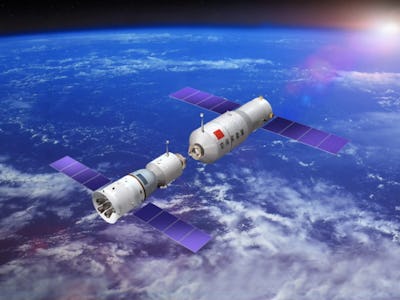 China Manned Space Engineering Office
China's space industry is soaring ahead in terms of orbital rocket launches per year, and it's earned the praise of tech entrepreneur Elon Musk. The world's most populous country is set to record more launches than Russia and the United States this year, the second year in a row it's achieved this feat.
"The China space industry is very impressive," Musk told his 29.4 million Twitter followers.
Musk was responding to a Monday article by Ars Technica, which noted some impressive stats about the state of national rocket launches. The figures show China racked up 39 launch attempts in 2018 with just one failure, edging out the United States with 29 attempts and Russia with 20 attempts and one failure.
As 2019 draws to a close, it looks like China could race ahead yet again. The country counts 27 orbital launches from this year, with Russia on 19 and the United States on 16. The latter country is expected to only account for a maximum of six launches in the last month and a half of this year, meaning it's almost certain China will claim the top spot once again.
As Musk's space-faring firm SpaceX storms ahead in the race for commercial spaceflight, it's a key reminder that the United States is not the only player in the field.
China and the space race: storming ahead
It's not the first time that China's space efforts have received international praise. In 2003 the agency sent its first man into space, then by 2019 it became the first country to land a craft on the far side of the moon.
For years, the country was a smaller player in the realm of exploratory space. China's space ambitions began in 1958, when Mao Zedong reacted to the launch of the Soviet Sputnik by announcing that China needed its own artificial satellite as well. Known as Project 581, it was eventually shelved in favor of military rocketry.
A manned space program in the 70s met a similar end, eventually becoming a propaganda tool for the state without any actual launches. But eventually, the program restarted in 1992 and a year later in 1993 the Communist Party reorganized its Ministry of Aerospace Industry to create the China National Space Administration (CNSA), which has emerged as country's rough equivalent to NASA.
The CNSA kickstarted 2019 by revealing the first images from its Chang'e 4 probe, which beamed images back from the far side of the moon. The lander was tasked with measuring the 1,500-mile South Pole-Aitken crater. It also contained a mini-biosphere with silkworm eggs as a scientific experiment.
But China has big plans to move even further. Bloomberg outlined China's future plans in July 2019 from collected press statements. It includes a Mars rover in 2020, a space station in 2022, a lunar research station later in the 202s and a crewed lunar mission in the 2030s.
With these grand plans, China has racked up more and more launches. The full launch list from SpaceLaunchReport from 2018 shows which country, in terms of who manufactured the core or first stage, achieved the most launches:
China — 39 (one failure)
United States — 29
Russia — 20 (one failure)
Europe — 8 (one failure)
India — 7
Japan — 6
New Zealand — 3
Ukraine — 2
Musk's support may seem rather confusing, but it chimes with his previous support for kickstarting a new space race. Musk claims he originally founded SpaceX after being disappointed with the rate of progress in space exploration, despite the sixties-era achievements capturing the public imagination. SpaceX's plan includes sending a man around the moon in 2023, sending a manned mission to Mars and establishing a city on the planet by 2050.
The emergent new space race could include nations competing alongside private firms, pushing to extend humanity's presence outside of the Earth. But while Musk has praised China's space efforts, the country's richest man Jack Ma has expressed a degree of skepticism that a city on Mars is a good use of resources.
"We need more heroes […] working hard on the Earth, improving things every day," Ma said during an on-stage debate with Musk at the World Artificial Intelligence Conference in Shanghai in August.
Beyond taking human resources, a Mars city may also require a lot of financial capital — somewhere in the region of $10 trillion at highest estimates. The next space race may be bold and ambitious, but it could also require a seriously high cash injection.