Google Stadia review: impressive if you have fast Wi-Fi and tons of data
The future of gaming is streamed, but Stadia comes with a lot of caveats at launch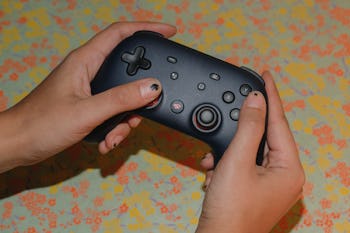 Raymond Wong / Input
A disruptive revolution is coming to gaming. The future of how we play is going to look less like an Xbox or PlayStation and a lot more like Google Stadia, a cloud-based gaming service that streams games to your screen of choice, similar to what Netflix and YouTube are for video. All you'll need to do to start gaming is connect a controller.
I feel strongly about this inevitable shift because I've been playing games on Stadia for about a week and my definition of gaming is already changing. With game streaming, I'm not chained to any specific hardware and its processing power. I can play the same console or PC-quality game on my TV or laptop or phone, so long as I have a decent Wi-Fi connection.
Stadia is impressive when you have all the necessary pieces working properly, but it won't kill Xbox or PlayStation just yet. It may be powered by mighty cloud computers that rival gaming PCs, but the new game-streaming service still needs a lot of work, like adding back in the laundry list of features cut from launch (more on that below), beefing up the games library with newer titles (and hopefully more exclusives), and optimizing streaming for slower internet connections.
The controller — $129 gets you a "Stadia Premiere Edition," which includes a white controller, Chromecast Ultra, and a 3-month subscription to the Stadia Pro service ($10 per month after trial). It's everything you need to get started. A free "Stadia Base" version will be available in 2020, but it won't give you the 4K graphics streaming fidelity, only 1080p resolution.
I've been testing a special reviewers version of the "Founder's Edition" which came with a limited edition navy controller, Chromecast Ultra, and a few accessories that will be sold separately, like a power adapter with built-in ethernet port for the Chromecast Ultra, a "claw grip" for attaching a smartphone to the gamepad, and USB-C cables.
The Stadia controller is really solid. It's like a rounder mashup between Xbox One and PS4 gamepads. The four face buttons have good travel but don't feel mushy. The analog sticks have texturized edges that prevent your thumbs from slipping off. The pair of left and right shoulder and trigger buttons are springy. And the built-in vibration dishes out good rumble. There are a few other buttons — mainly a Google Assistant button and capture button for taking screenshots and recording gameplay video. For a first stab, I'd say the Stadia controller nails all the basics. Microsoft's Elite Wireless Controller Serie 2 is still the most advanced controller I've ever used, but the Stadia controller is no piece of junk like Amazon's short-lived Fire TV gamepad.
Fast internet is a must — Like streaming video, streaming games is entirely dependent on your internet speed. Faster internet delivers smooth, lag-free visuals, and slower internet means seeing some glitches and dropped framerates.
Google recommends a minimum of connection of 10Mbps for 1080p Full HD streaming at 30 fps with stereo sound and 35Mbps for 4K resolution streaming (in HDR if display is supported) at 60 fps with 5.1 surround sound.
Reality didn't reflect Google's advertising, though. Despite having a Wi-Fi connection with 16-20Mbps downloads in a hotel room in LA, streaming Shadow of the Tomb Raider and Destiny 2 to my 13-inch MacBook Pro wasn't 100% stable. The visuals would glitch out for a second or two about every 10 minutes of playtime. I also tried playing the same two games on my MacBook Pro at Starbucks which had about 4Mbps download speeds and both were unplayable — the graphics were so blocky I might as well have been playing Minecraft.
A much faster Wi-Fi connection is needed to get a gaming experience comparable to a console or PC. On my home Wi-Fi, which gets download speeds of about 70Mbps, five of the six Stadia games provided for me to test (Destiny 2, Gylt, Kine, Mortal Kombat 11, and Red Dead Redemption 2) all streamed nearly flawlessly with almost no buffering or glitching; I couldn't get Just Dance 2020 to load up because it couldn't find the necessary smartphone companion app (not great). And, of course, at work with a 200Mbps connection, Stadia games streamed as fluid as possible.
While I saw drops in visual quality on poorer Wi-Fi connections, there wasn't any controller lag. To my surprise, the controls, even in an fast-packed game like Destiny 2 where there are bullets flying everywhere, were as responsive as on a console.
With a fast internet connection, it's kind of mind-blowing you can play high-res games on any screen without having to worry about whether a device's processor and graphics chip can handle them.
Data guzzler — A fast internet connection isn't the only thing you need for Stadia to work right. You need a lot of bandwidth, too. One hour of playing Red Dead Redemption 2 at 1080p resolution on my 46-inch HDTV via a Chromecast Ultra ate up 5.3GB of data. This seemed insane until I saw an hour of Destiny 2 on a Pixel 3a XL with 6-inch, 1080p-resolution display gobbled up 9.3GB of data!
How much data is needed is going to vary by game, but holy cow, Stadia sucks down data like there's no tomorrow. Just to put things into perspective: Red Dead Redemption 2 clocks in at about 90GB as a one-time download on Xbox One/PS4 and takes on average of about 40-60 hours to complete. However, if you were to play RDR2 on Stadia, streamed at 5GB/hour, you'd only make it through 18 hours by the time you hit 90GB, which means you'd end up using over 180GB data to finish the game.
I hate to be that nerd, but the math doesn't lie. Sure, Stadia only supports Wi-Fi, and cellular connection support isn't coming until 2020, but you'll still burn through a ridiculous amount of data. Comcast, for example, limits its users to 1TB of data per month — which could lead to your internet provider throttling your connection.
Lackluster launch games — Stadia's 22 launch titles are uninspiring. They include: Assassin's Creed Odyssey, Attack on Titan: Final Battle 2, Destiny 2: The Collection, Farming Simulator 2019, Final Fantasy XV, Football Manager 2020, Grid 2019, Gylt, Just Dance 2020, Kine, Metro Exodus, Mortal Kombat 11, NBA 2K20, Rage 2, Red Dead Redemption 2, Rise of the Tomb Raider, Samurai Shodown, Thumper, Shadow of the Tomb Raider, Tomb Raider 2013, Trials Rising, and Wolfenstein: Youngblood. About half came out this year, one is a Stadia exclusive (Gylt), and almost all of them are available on other platforms.
It's nice being able to play games like Red Dead Redemption 2 and Mortal Kombat 2 on a MacBook Pro (gaming on a Mac is still as much of a joke as it was when I got my first MacBook in 2007). But I've already played these games on my PS4 before and I bet most people who pre-ordered Stadia probably did as well.
You would think perhaps Google would offer pricing incentives on some of these titles, but few of Stadia's launch games are discounted (Stadio Pro subscribers get small discounts on some games, but they're not much). Why would anyone pay $60 to play Red Dead Redemption 2 on Stadia when the PS4 and Xbox One versions regularly sell for $40 or less?
It's downright offensive that Google thinks it's acceptable to pass off older games as launch titles on a new platform. In Google's defense, up to 44 games in total will be available within Stadia's "launch window" in the coming months. But again, most of the titles are old or aging. Cyberpunk 2077 is the only new game coming I'm genuinely looking forward to, but unlike its PC and console counterparts which launch on April 16, there's no release date set for Stadia.
So many missing features — Stadia's entire premise hinges on simplicity and convenience. Just log into your Stadia account on any display, connect a controller, and get gaming. Except at this point, it's kind of a mess. For whatever reason, the controller only works wirelessly when you're playing on a TV with a Chromecast Ultra. Playing Stadia games on a laptop requires a USB-C cable tethered to the controller. There's a Stadia app for iOS and Android, but you can only play games on Android (only on Pixel phones), and the controller also needs to be connected via USB cable to the phone (a setup that looks and feels ridiculous).
And that's not all. The controller doesn't support Bluetooth audio, meaning you can't stream sound from the Chromecast Ultra to wireless headphones — you'll need to plug in wired headphones into the gamepad's 3.5mm jack. Bluetooth headphones do work on laptops, but if you want to connect them to a phone, it needs to be a Pixel. Wired USB-C headphones also won't on phones because the port needs to be used up by the controller; phones with a 3.5mm headphone jack like the Pixel 3a are fine, though.
Moreover, the Assistant button didn't work prior to launch and it's unclear when it'll be ready. The capture button didn't work when I played on Android, so I had to manually take screenshots using my phone's volume and home buttons. The much-hyped YouTube-integrated gameplay features like "State Share," which lets users play from the same save state as a streamer, and "Crowd Play," which lets users play with a streamer are both MIA. Customers who bought the Founder's Edition won't get their included "Buddy Pass" that lets them share their Stadia Pro subscription with a friend for three months until "about two weeks" after they get their bundle. The list of missing launch day features goes on and on.
Don't rush to buy Stadia — Ten years ago, OnLive tried to deliver on the very same promise of a cloud-based gaming service and failed. It was way ahead of its time. Internet connection speeds weren't ready for streaming high-bandwidth games. Now, they are.
Stadia's launch is inexcusably rocky and I recommend everyone wait until Google delivers on the many missing key features it promised, like wireless controller support for all devices and the shared gaming experiences on YouTube. Ditto for a library of games that don't feel like you're perusing the bargain bin section at GameStop.
Google has its work cut out if it's serious about Stadia. While I still believe consoles won't die off anytime soon — there are still people who prefer physical hardware and media — the convenience of Stadia (or any cloud-based gaming service) will be irresistible the same way Netflix is once the kinks are all ironed out. The future of gaming is going to be streamed — Microsoft's also aggressively building out its xCloud games streaming service for 2020 — but Stadia may have jumped on the bandwagon a little too early.
Input is a new kind of tech publication launching in the fall. We're dedicated to bringing you a fresh perspective on the devices, creators, trends, and ideas that are changing our world. You can follow Input on Twitter @inputmag and Instagram @input. Sign up to receive our newsletter here.