How to redeem Dynamax Crystals and more 'Sword & Shield' pre-order bonuses
Get what you Poke-paid for!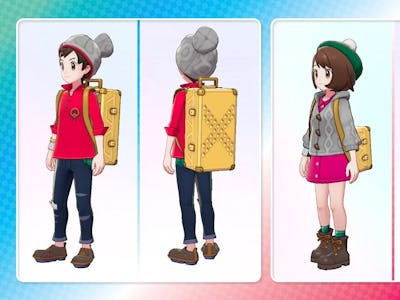 Nintendo/Pokemon Company and Amazon
Pokémon Sword and Shield is finally on the market. Seasoned trainers and newcomers everywhere are purchasing the new titles and capturing all sorts of adorable new 'mon. Those who ordered a copy of the game ahead of time were promised some tantalizing bonus goodies, like Dynamax Crystals and a gold-studded leather case (i.e., a fancy phrase for Gold Backpack). If you're wondering what you need to do to redeem your bonus items, we've outlined the steps below to make it easy to leap into the Galar Region with all your spiffy new goodies in tow.
How to redeem your pre-order bonus codes
While the provided codes don't work in the Nintendo E-Shop, officially obtaining the promised bonuses is actually an easier task than you might suspect. To redeem any code in Pokémon Sword and Shield, make sure you're first connected to the internet then follow these steps:
Press the X button to open your in-game menu
Select the "Mystery Gift" option
Click "Get a Mystery Gift"
Choose "Get Mystery Gift via Code or Password"
Enter your pre-order code
After entering the code, the redeemed item will automatically appear in your inventory. Each code may only be redeemed once. In the case of the Dynamax Crystals found in the dual pack, I'd suggest redeeming the Larvitar Crystal in Pokémon Sword, and the Jangmo-o crystal in Pokémon Shield. As we said in our Pokémon Sword and Shield differences article, Larvitar is exclusive to Shield and Jangmo-o can only be found in Sword. By redeeming these crystals in the games opposite to where they're normally found, you'll complete your Pokédex just a smidge quicker!
How to actually use the bonus items
Once the two Dynamax Crystals and the gold-studded leather case are in your inventory, they're fairly easy to use.
To equip the gold-studded leather case, head to any location that includes an outfit changing station, like the clothing store in Wedgehurst.
After being redeemed, the Larvitar and Jangmo-o Dynamax Crystals will appear in your backpack as ☆And15 and ☆And458, respectively. They can be activated directly from your item menu. Once activated, head over to the Watchtower Lair in the Wild Zone, located in the Watchtower Ruins.
For the next 24 hours, the Watchtower will act as a massive Max Raid Battle Den. Interact with the crumbling tower within this time to initiate a Max Raid Battle with the Pokémon connected to the activated Dynamax Crystal. 
Pokémon Sword and Shield are currently available for purchase.