'Pokémon Sword and Shield' comes with copious character customization options
There have never been more choices.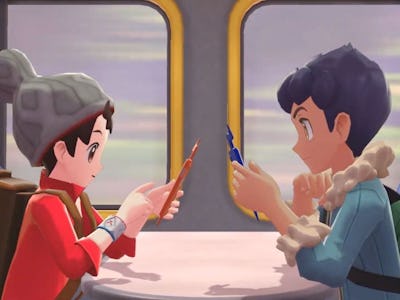 Game Freak / NIntendo
Pokémon Sword and Shield are chock full of hundreds of creatures to hunt for as gamers explore the Galar region. What's more, the new-generation titles also offer the most expansive variety of clothing for players to customize their trainer we've ever seen in a Pokémon game.
Players have been able to choose skin tone, eye, hair color, and outfits since the 2013 release of Pokémon X and Y. But Sword and Shield have taken these features to the next level with hundreds of clothing options, and more hair and color choices than ever before.
At the start of the games, players will need to choose their gender and skin tone, which they won't be able to change afterwards. But they can visit salons and shops to pick up new threads, change their do, and even switch up their eye color.
Here's how customizable trainer are in Pokémon Sword and Shield:
Hairstyles and hair color options
Players can pop into Salons to change their hairstyle for 3,000 Pokémon Dollars. Women get to choose from eleven different styles ,while men get eight options. Both genders get to choose from the same ten colors: black, gold, dark brown, ash brown, caramel blond, platinum blond, pink-brown, wine red, white, and green.
Makeup and contact lens options
Gamers can spruce up their trainer's face by changing brows, lashes, eye color, and lip color. It costs 1,000 Pokémon Dollars for each facial cosmetic change.
Women can customize their eyebrows (3), eyebrow tint (10), eyelashes (3), contact lenses (19), and lip color (7). Men are limited to their eyebrows (3), eyebrow tint (10), and contact lenses (19).
Clothing options
There are a mind-boggling amount clothing options in Sword and Shield, most of them have to be purchased for varying prices. But certain outfits need to be earned by defeating gym leaders.
Gym uniforms are the most exclusive threads in the games. Players can earn a total of eight from either Sword or Shield. Since each game has three exclusive gyms gamers will need to buy the ones they can't earn for 18,000 Pokémon Dollars each. There are a total of 18, for each elemental type in the game.
Tops include t-shirts, button downs, and sweatshirts and range from 990 to 22,900 for the Three-Fourths Sleeve Button-Front Top, which comes in five colors.
Outerwear includes hoodies, jackets, tracksuits ranging from 2,100 to 111,300 for Motorcycle Jackets, which comes in five colors.
Socks and Leggings range from 350 to 3,200 for Patterned Leggings, which comes in three colors.
Shoes include loafers and sneakers, they range from 6,740 to 55,500 for Creepers, which comes in six colors.
Bottoms include trousers, sweatpants, and leather pants ranging from 1,990 for Skinny trousers to 96,400 for Leather Trousers, which comes in seven colors.
Hats include caps and berets, which range from 1,500 to 4,810 for Knit Berets, which comes in 12 colors.
Glasses range from 2,800 to 21,000 for Wraparound Sunglasses, which comes in six colors.
Gloves range from 990 to 12,000 for Leather Palm Gloves, which comes in eight colors.
Bags range from 1,990 to 89,000 for Leather-Trimmed Bags, which come in five colors.
Pokémon Sword and Shield are out now on the Nintendo Switch.