'Imagineering Story' on Disney+ is worth your time for a historic reason
The Disney+ documentary series isn't just a tour of Disney history. It stands as a reminder why film preservation is important.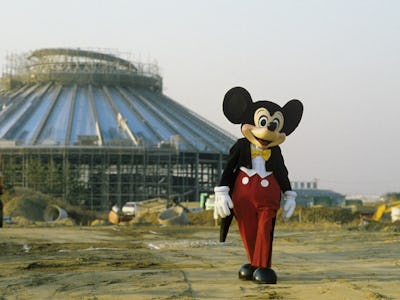 Disney
It turns out the "Disney Vault" is a real place, but hardly anyone ever gets to see it. The secretive office — filled with tables, film canisters, and "a lot" of binders — is located in the Frank Wells Building at Disney's famous Burbank lot.
"You order up what you want and all the material is in the back," filmmaker Leslie Iwerks tells Inverse. "They pull it out and bring it to you. You never get to go see the storage itself."
It was in this office, "a quiet room with lots of memorabilia" including the original Project Little Man doll and in 173 other libraries, where Iwerks unearthed Disney history.
A documentary filmmaker whose films have earned Oscar and Emmy nominations, Iwerks has spent the last five years on the Disney+ series The Imagineering Story, a new show on Disney's streaming service. The series reveals the history of the "Imagineers," the brains who made and still make the iconic Disney theme parks come to life. 
What's remarkable is how incredible the past looks. Despite some of the documentary's archival footage being over sixty years old, dating back to the beginning of Disneyland's construction prior to its opening in 1955, much of Imagineering looks like it was shot last week. Others look a little worse for wear. Either way, the series is the closest thing to a Disney time machine. While the contents in the docu-series celebrate Disney's creative minds, that it exists is a testament to the virtue of preserving physical media.
Iwerks, who grew up around Disney as the granddaughter of Walt Disney's creative partner Ub Iwerks, set out in 2012 to make The Imagineering Story a movie. Over time, it ballooned into a six-hour feature.
"I suggested to WDI that we do a series as we'd be leaving so much on the cutting room floor," Iwerks says. "It was not long after that that Disney+ was announced and they would like to bring it over to their network for the launch. This last year has been nonstop, with additional filming, editing, and acquiring the clearances to every single shot."
When Iwerks wasn't filming, standing on mounds of dirt that would become Disneyland Shanghai and World of Pandora, she and her team combed over "binders of logs" in Disney's "always cold" archives, taking wild guesses as to what could be in each canister.
"A lot of it was in cans," Iwerks says. "There's a lot of stuff in cold storage. The stuff we got in EPCOT was still in negatives. We were able to go through binders of film footage that had an esoteric description. You weren't quite sure what it was based on that." Iwerks only found out what was on the reels after they had been transferred, and "That costs money."
She adds, "Word of advice, bring a coat."
Still, what Iwerks unearthed was astonishing. Digging in Anaheim and Orlando. Test footage of animatronics. The construction of Haunted Mansion and Pirates of the Caribbean. "What we found was kind of a treasure trove of material that had not been seen. We were blown away."
A total of 82,000 photos and videos, comprising 600 hours totaling 19 terabytes of data, were collected for The Imagineering Story. Of the 82,000 pieces, 2,100 were used. "We obtained the material from 174 separate archives and libraries," Iwerks says, "The bulk of it coming from multiple internal Disney departments." Despite growing up in the world of Disney, the footage Iwerks found she'd never seen before. And when the footage went through the "very technical" up-conversion process into high definition, "It looked so pretty."
Outside Disney, Iwerks has also directed 2018's Selling Lies, about the fake news that populated Facebook in the lead-up to the 2016 U.S. election, and League of Legends Origins, which chronicles the rise of the popular esports game. But The Imagineering Story hits close to home. "It was a subject I was familiar with as a kid," she says. "Growing up behind the scenes, the parks, it was kind of more normal than it was."
The process of collecting material was straightforward. Her team only needed to ask. Outside the main archives, the filmmaker also pulled from archives belonging to Disney's international parks and the Walt Disney Museum.
"We went to every archive that you can within the studio. And Imagineering, they have their own." True to their genius, the Imagineers had the foresight to digitize their library. When Iwerks printed their list, it was a document an "inch thick" in size ten font. "We would go to Imagineering physically and look on their wall and pull stuff. No one had done that. There was so much there that no one ever thought would see the light of day."
One piece of Disney history Iwerks unearthed and wanted to include in the show, and couldn't, was an instructional video for Disney's engineers on how to build the Enchanted Tiki Room's animatronic birds.
"It actually has that old lame voice-over," Iwerks says, laughing. "How to get the machine running within the bird, how to close it up, and how to paint the feathers. It was fun. Kind of campy now but back then it was a serious tutorial for the people working on the Tiki attraction." The birds have recently been submitted for a December 7 auction, and are expected to fetch a price ranging from $80,000 to $100,000.
"At a certain point you can go very deep and a little bit esoteric. We had to pick and choose how deep we could go."
As a member of several film and TV boards including the Academy of Motion Picture Arts and Sciences, you don't need to tell Iwerks twice there are differences to film, video, and HD. But The Imagineering Story was a harsh reminder. "As you get further into the series, the quality doesn't look as good," Iwerks says.
Film, when preserved, can keep images pristine after decades — see the documentary Apollo 11, which converted surviving footage of the 1969 event to IMAX — but newer media formats that replaced film lack that evergreen quality.
"When video tape came in, the actual master footage started to degrade over time as videotape does." And not everything in Disney's archives was kept intact. "It was frustrating for us. They hadn't digitized or kept certain tapes up in quality. We were fortunate in the first two episodes that a lot was shot on film, but as you get into the '80s and '90s, it's 4x3, lines going through the tape. You're seeing a journey of quality through history."
Even the transition to HD proved difficult. "The decade 1998 to 2008 was surprisingly hard," she says. "It happened to be the transition into the HD era. A standard format had not revealed itself yet. There were many proprietary branded formats scattered throughout that period."
"People should take it seriously, the preservation of the content they're creating," adds Iwerks. "I do feel that way. Film still is, to me, your highest quality. You'll see it when you watch [the show] how critical film is for lasting imagery. Seeing the history of something over 60 years, you do appreciate film that much more."
The Imagineering Story is streaming now on Disney+.