The best sandwich in America will ruin your day if you're a supertaster
We have proof that supertasters eat fewer vegetables, and a sprinkle of salt can't help a lick.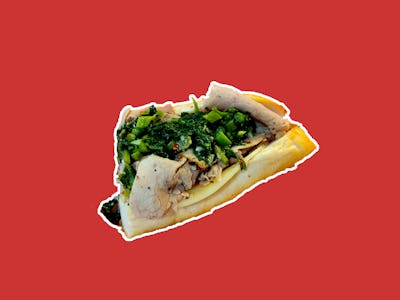 Inverse photo illustration based off photo by Alissa Walker
Inside Philadelphia's Reading Terminal Market is one of the best sandwiches in America, but new scientific research shows that, for a distressing number of people, eating it will ruin their day.
The sandwich: Savory roast pork with paired with wonderfully bitter broccoli rabe on a crusty hero, from the DiNic's counter.
The research: People who with so-called "supertaster" genes are shown to avoid foods like it.
Scientists now have proof that supertasters do in fact eat fewer vegetables than the rest of us, and a sprinkle of salt can't help a lick, the study shows.
A survey of 175 people conducted by researchers at the University of Kentucky School of Medicine shows that people with supertaster genes were 2.5 times as likely to be in the bottom of half of those surveyed when it came to the number of veggies they ate. Chief among those bitter veggies must be the memorably bitter broccoli rabe on the DiNic's sandwich.
Their research will be presented this weekend at the American Heart Association's Scientific Sessions conference in — where else? — Philadelphia.
What makes a person a "supertaster"?
Every human is born with two TAS2R38 (Taste receptor 2 member 38) proteins that are encoded in their corresponding TAS2R38 gene. There are two variants, or haplotypes, that are passed along from parent to child in pairs: AVI, the "nontaster" variation, and PAV, the "supertaster" one. Together, they make up 85 percent of a person's tasting profile.
People with an AVI/AVI and PAV/PAV combination are down the middle, as is an AVI/PAV combo.
People with AVI/AVI and AVI/AVI mix are sometimes called "tasteless" (no pun intended).
And those with a PAV/PAV-PAV/PAV combination are supertasters
According to the US Department of Health and Human Services, "approximately 25 percent of Americans are nontasters, 50 percent are medium tasters, and 25 percent are 'supertasters.'"
"Ruin-your-day level of bitter"
Jennifer L. Smith, Ph.D., R.N., author of the preliminary research, says that because the foods taste so bitter to supertasters, they were shown to eat less veggies.
"We're talking a ruin-your-day level of bitter when they tasted the test compound. These people are likely to find broccoli, brussels sprouts and cabbage unpleasantly bitter; and they may also react negatively to dark chocolate, coffee and sometimes beer," Smith said in a statement released ahead of the conference.
Sadly, not even a liberal sprinkling of spices seems liven up broccoli to a supertaster.
"We thought they might take in more sugar and salt as flavor enhancers to offset the bitter taste of other foods, but that wasn't the case.
"Down the road we hope we can use genetic information to figure out which vegetables people may be better able to accept and to find out which spices appeal to supertasters so we can make it easier for them to eat more vegetables," Smith said.
The average age of the tasters surveyed was 52 and more than 70 percent were female.
If you ever find yourself in Philadelphia and wonder where exactly you land on the supertaster scale, head to DiNic's.