'Falcon and Winter Soldier' set photos tease a fraught 'Civil War' location
A Reddit user spotted the connection in a recent Instagram story.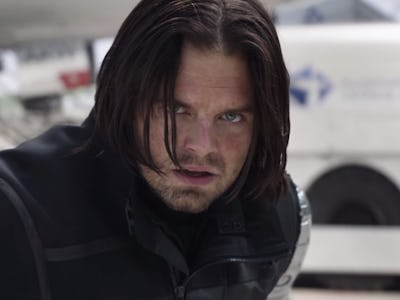 YouTube.com/Marvel Entertainment
Sometimes all it takes is a tiny detail to make everything click. Such is the case with the latest fan find from the set of the upcoming Disney+ Marvel series Falcon and the Winter Soldier. Thanks to a selfie posted by one of the actors, an eagle-eyed viewer may have cracked a major detail for the upcoming series (which we still know little about).
Recently, Falcon actor Anthony Mackie posted a video to the Marvel Studios Instagram stories. Taken selfie-style, a viewer noticed a truck labeled PARTY TIME ICE in the background and decided to do some online investigation. As it turns out, Party Time Ice doesn't trade in snow cones or vodka luges. Party Time Ice is effectively a snow rental company. You can rent it in bulk for events and film shoots.
Fans on Reddit quickly deduced that the series will almost certainly see Sam and Bucky returning to Siberia. It makes all the sense in the world, especially given that the Disney+ series will feature the return of Civil War villain Baron Zemo, played by Daniel Bruhl. The movie's climactic fight between Iron Man and Captain America took place in Siberia, in a bunker full of dormant Winter Soldiers, a fitting setting to return to in Bucky's first solo (well, solo-ish) outing in the MCU. A recent post by Sebastian Stan showing off Bucky's original World War 2 dog tags seems to further confirm a return to the character's past, so the safe money right now is on a return to Siberia in Falcon and the Winter Soldier.
Just last month, rumors circulated claiming the upcoming Disney+ series would reuse an abandoned Civil War plot, in which the U.S. government refuses to recognize Sam Wilson (Anthony Mackie) as the new Captain America. This leads Sam to align with Bucky (Sebastian Stan) to fight crime as vigilantes.
We'll be sure to keep you in the loop on any further updates from the show now that filming is underway. It feels safe to say more is going to start coming to light as filming progresses.
The Falcon and the Winter Soldier will begin streaming on Disney+ in 2020.