'Ant-Man 3' report may confirm its leaked Marvel Phase 5 release date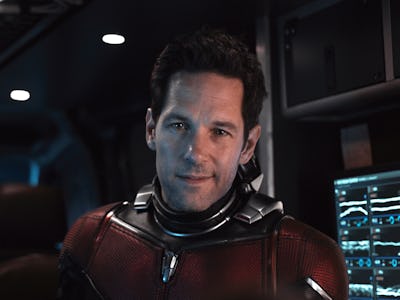 Marvel Studios
Stock up on Pym Particles because we're going back to the Quantum Realm. The Hollywood Reporter revealed on Friday that Ant-Man 3 is a-go with director Peyton Reed returning alongside Paul Rudd in the lead role. We don't know much about the movie — its mere existence is a pretty big deal — but Friday's report does include one key detail about the movie that could confirm an earlier leak regarding the Ant-Man 3 release date.
Here's the relevant passage from THR:
No release details have been confirmed but sources say the plan is to shoot at the end of 2020 or top of 2021 for a likely release in 2022. Sources say that sequels Doctor Strange in the Multiverse of Madness and Thor: Love and Thunder will shoot before Ant-Man 3.
That second bit isn't a surprise. Doctor Strange and Thor are both getting sequels in Marvel's upcoming Phase Four, while Ant-Man 3 likely won't arrive until Phase Five. What is interesting is the specific year marked for release: 2022. Why? Because this isn't the first time we've heard the Scott Lang could return to the Marvel Cinematic Universe in 2022.
Earlier this month, noted MCU leaker @_CharlesMurphy shared an updated Marvel movie calendar, adding Ant-Man 3 to his projected lineup for Marvel's Phase Five. The specific release date? July 29, 2022.
Following THR's report, Murphy's leak is looking pretty legit. So it's probably also worth noting that he predicts Black Panther 2 will release on May 6, 2022. He also notes that something exciting is coming in May 2024, which could be the highly anticipated Avengers 5 movie set to close out Marvel's Phase 5 (or even Phase Six).
For now, we're still waiting for Phase Four to kick off with Black Widow in May. But it's exciting to see the not-too-distant future of the MCU shape up as some of our favorite second-tier Avengers prepare to step up into the big leagues.
Ant-Man 3 is expected in 2022.