Marvel producer calls another 'Endgame' level crossover a "dream." Should we worry?
Trinh Tran's recent quotes imply a lot about Marvel's Phase Four and beyond.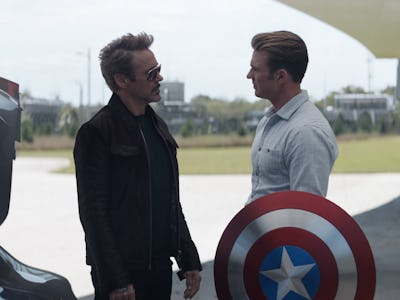 Marvel Entertainment
Although Marvel Studios has produced some of the biggest and most financially successful movies Hollywood has ever seen, nothing has ever been a sure thing. Which is why even Marvel's producers are acknowledging that another event movie on the level of Avengers: Endgame isn't possible for at least another ten years.
In a new interview with CinemaBlend, Marvel producer Trinh Tran, whose involvement with the studio dates back to 2008's Iron Man, said it would be a "dream" to recreate the success the studio has seen with the two mega-movies, Avengers: Infinity War (2018) and Avengers: Endgame (2019). Tran's words heavily imply that Marvel can't just make another big movie tomorrow; it really takes time and consistent output to make the gamble pay off.
"Our focus right now is to make sure that the titles that we've released in Phase Four," Tran said. "Obviously those stories are going to be new, exciting, different, and can connect with the audience like the other movies have been."
Tran added, "Over ten years ago, it had always been our dream to get to Infinity War and Endgame level. We didn't know obviously where that was going to go at the start of the studio, but it's incredible to know that we were able to accomplish that. Now it'd be amazing if we could get to that level ten years later, so I think it's a dream to continue doing that and build upon the MCU and the connective tissue that we have."
Tran's words are telling to just how unlikely the success of Marvel's movies were, and how much things could change tomorrow. Right now, it's easy to imagine fans flocking to theaters to see another big Marvel film if there was one. But decoding Tran's words, it seems Marvel is aware that that short-term gain is nothing compared to the long-term bigger picture.
Based on what we already know about Phase Four, fans are in for a return to Phase One-era movies that seem focused on single characters, like Black Widow and Shang-Chi, with little attention paid to the next big universe-spanning climax. There isn't even a fifth Avengers movie to look forward to just yet, as Disney/Marvel has not revealed plans after 2021.
In an interview with Inverse, Tran did reveal a thesis for Phase Four and beyond: Diversity. "Female representation, the diversity of it all, is very important because this is the world we live in," Tran said. "There's so many different people out there and in order for us to relate to them, we have to make movies that are different. We can't always be about one race or gender. That's not the way to connect with the world."
Black Widow, the next Marvel movie, will be released in theaters on May 1, 2020.