Marvel actor's selfie leaks a specific time and setting for 'The Eternals'
If you follow every Marvel actor on social media, you might just catch some interesting spoilers.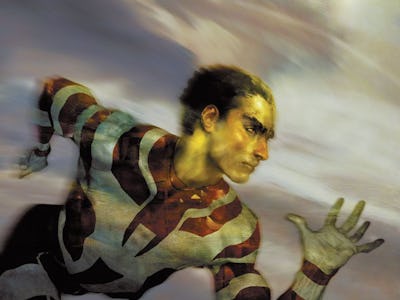 Marvel Entertainment
As if you needed any reason to follow every superhero actor on social media, one Marvel actor's Instagram selfie may have spilled some interesting details regarding the 2020 Marvel epic, The Eternals.
Possible spoilers for The Eternals below.
On Wednesday, Reddit's r/MarvelStudiosSpoilers caught one Instagram story posted by Lauren Ridloff, an actor on The Walking Dead who is currently filming Marvel's The Eternals, slated for release in 2020. Ridloff shared a selfie of herself behind the scenes, showing off a red and green costume for her character, Makkari, a member of the Eternals.
"Guess whose suit this is…" Ridloff wrote. "(Hint: TWD x Marvel)"
The costume is neat! But hanging on a wall behind Ridloff, fans spotted a board that has "Babylon 800 B.C." typed in what looks like Papyrus font. There's little other context, but the board vaguely looks like a reference used by the production team to maintain consistency throughout the making of a movie.
That's crucial for a project like The Eternals. While the plot and story are still shrouded in mystery, much of the film is expected to span thousands of years and depict several time periods, including modern-day. Keeping track of what costumes and props goes where and how they're supposed to look is especially dire.
Ridloff's selfie is just the latest evidence that the film will partially take place in ancient Babylon. Back in September, a fan vacationing in Spain stumbled upon the set of The Eternals and took pictures of a replica Ishtar Gate used for the movie. The Ishtar Gate, constructed 575 BCE, was the eighth gate to the city of Babylon. While it no longer exists in present-day Iraq, a reconstructed version made in 1930 can be visited at the Pergamon Museum in Berlin.
In interviews, Marvel's studio chief Kevin Feige has called The Eternals a film that evokes the trope of ancient aliens, a popular (but widely debunked) theory that human civilizations have made contact with aliens. "There's this notion of all of these myths and legends that we know from ancient times, were they inspired by the Eternals?" Feige told ScreenRant in 2018. "It's an ancient aliens kind of sci-fi trope that we think would be fun to explore someday."
While few fans outside comic book readers and Jack Kirby scholars know about the Eternals, the 2020 film might be one of the most important in the Phase Four slate. Starring an ensemble cast that includes Angelina Jolie, Salma Hayek, Richard Madden, Kumail Nanjiani, Brian Tyree Henry, Don Lee, and Lia Mchugh. Kit Harington will also star in the film as Dane Whitman, who in the comics becomes the superhero Black Knight.
The Eternals will be released in theaters on November 6, 2020.