A new 'The Witcher' trailer is coming tomorrow, and with it a release date?
Geralt of Rivia is coming to Netflix soon.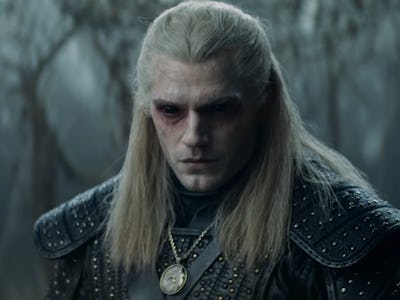 Netflix
The hole left by Game of Thrones in the current TV landscape is palpable as networks rush to find the next great fantasy hit. Netflix is taking their crack at it with The Witcher, a series adapted from the novels by Andrzej Sapkowski (and further popularized through a series of popular video games). Starring Superman actor Henry Cavill, The Witcher will follow the white-haired monster hunter Geralt of Rivia as he traverses a fantastical land of sorcerers and monsters.
The Witcher, hotly anticipated as it may be, still remains largely unseen outside of a trailer that premiered at this year's San Diego ComicCon. Right now, it doesn't even have a release date — strange, considering how much Netflix seems to have put into this project.
It appears that will change tomorrow, though. Netflix shared a short teaser on Twitter confirming that Thursday will see the launch of a brand new trailer. With the series believed to debut in late 2019, it feels safe to say that the trailer will also likely include the Witcher release date.
There's no telling when that release date might be. They could set it for a late-November/early-December spot with the intention of ramping up press and fan anticipation even more, or we could see a stunt pulled in which the entirety of this high-budget spooky fantasy series goes live on Halloween. The safest bet might be a Christmas release timed to dominate streaming options while everyone is stuck at home with their families and desperate for something to watch.
Either way, get ready to spend at least a few minutes of your Halloween with Geralt of Rivia. He's coming.