Flying electric taxi startup Lilium completes first flight tests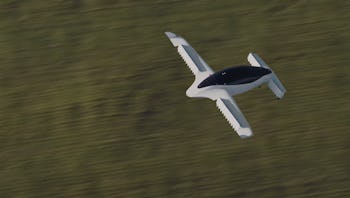 Lilium
A German startup called Lilium has completed its first 100 ground and flight tests of its flying electric taxi, according to the company. That means the company will move on to the next phase, which will focus on "how it performs at high speeds."
The aircraft was controlled remotely from the ground for these initial test flights.
The taxi is a vertical take-off and landing (VTOL) aircraft, and it has 36 electric engines. With around 2,000 horsepower, this vehicle should be able to reach speeds over 180 mph, which Lilium says will make it the fastest VTOL in the world.
The taxi can seat five, and Lilium hopes to have it flying people around in several locations across the globe by 2025.
See also: Flying Cars Like Japan's VTOL Are a Big Step Toward Zero-Emission Travel
Daniel Wiegand, co-founder and CEO of Lilium, said in a statement that they're excited with the progress they've made.
"It's been thrilling to watch the Lilium Jet progress so rapidly and to see our first flying taxi manufacturing facility. We are taking tangible and concrete steps towards making our vision of regional air mobility a reality and we're doing it on time," Wiegand said. "We believe that regional air mobility has the potential to be a remarkable force for good in society and we can't wait for what comes next."
Lilium has already built a "world-class production facility" and is working on building a second.