'Zombieland: Double Tap's ending hints at a third film in a very subtle way
Is 'Zombieland: Triple Tap' possible? Maybe not for another ten years.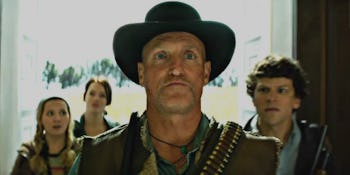 Sony Pictures
If you blink, you'll miss it, but Zombieland: Double Tap leaves the door wide open for a third movie in a big way. While it may be another ten years until that happens, take comfort knowing you might not have seen the last of Columbus, Tallahassee, Wichita, and/or Little Rock. For now.
In theaters Friday, Zombieland: Double Tap brings back the best zombie survivalists of 2009. Jesse Eisenberg, Woody Harrelson, Emma Stone, and Abigail Breslin reprise their roles from 2009's cult hit Zombieland. Set a few years after the original, our heroes hole up in the White House until Little Rock (Breslin) runs off with a pacifist, Berkeley (Avan Jogia). With a new, more lethal breed of zombies running wild, Columbus, Wichita, and Tallahassee put aside tensions in order to protect Little Rock.
The end of the movie ends with satisfying closure. But in a Hollywood landscape that demands nigh endless sequels, prequels, and spin-offs, Zombieland: Double Tap does leave a few crumbs that hint at what could be Zombieland: Triple Tap.
Spoilers for Zombieland: Double Tap ahead.
At the end of Zombieland: Double Tap, the gang plus a newcomer, Reno (Rosario Dawson) save Babylon, a hippie commune, from a horde of "T-800s." Named after Arnold Schwarzeneggar's killing machine in The Terminator, T-800 zombies are smarter, faster, and stronger than your typical brain-eater.
After Colombus and Wichita tie the knot at Babylon, the group rides off in Elvis' Cadillac (yes, taken from the Elvis), towards the sunset and the great unknown. And that's the end of the Zombieland story — or is it?
"3"
On the Cadillac, painted on the license plate, there is a "3" drawn in black paint. It's a callback to a point earlier in the movie when Tallahassee draws a "3" on the side of an abandoned luxury RV that almost became their new ride until they blow a tire.
But now, at the end of the film, the "3" takes on a new meaning. It really could mean a possible third movie. Why else would our heroes end the movie happy and healthy (and not zombies) as they drive away in a dope car to Elvis Presley's "Burnin' Love" blaring through the car radio?
"We would all be thrilled"
The "3" on the license plate is the only real evidence hinting at a third Zombieland. But behind the scenes, the filmmakers want it to happen just as much as the fans might.
In an interview with Metro, director Ruben Fleischer said that Emma Stone gave him the idea of keeping Zombieland to a movie series that happens once every ten years. "Emma pitched the idea of doing one every ten years," Fleischer said. "I thought that was a pretty cool idea."
He added, "Hypothetically we would all be thrilled. But, as was the case with this one, it depends on figuring out a story worth telling and having a script that we all feel can be good. It would also depend on how this movie is received and if there is even a desire for another film."
With the film collecting positive reviews — it is currently a solid, comfortable, fresh 73% on Rotten Tomatoes — and genuine excitement from Zombieland fans who haven't lost their bloodlust in the last ten years, it's perhaps not so brainless to imagine a third movie.
Zombieland: Double Tap hits theaters October 18.