Here's how to hide in a Hideout in 'Fortnite' for Open Water challenges
This week, we are all trash.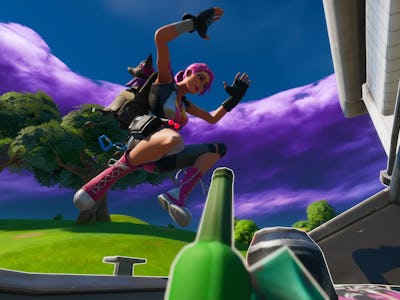 Epic Games
One of the new mechanics that came to Fortnite: Battle Royale with the start of Season 11, aka Chapter 2, earlier this week is something called Hideouts, which has nothing to do with the supervillains and superheroes of Fortnite's past. Instead, they allow players to hide in a haystack or a dumpster — yes a giant bucket of trash — to get the drop on enemies, because you pop out like a Jack-in-the-box.
This new challenge set, mysteriously called "Open Water," has nothing to do with boats, swimming, or any watery aspects of Fortnite Chapter 2. Instead, it's a lot of generic stuff with a few different sneak-based challenges like this. It also feels like Week 2 of challenges even though it's only Day 2.
One of the very first challenges is just to "hide in a Hideout" in three different matches, which you can do by pressing square (or your usual action button) when near the Hideout. The tenth challenge is to "deal damage within 10 seconds of leaving a Hideout." Hideouts come in two varieties: haystacks/bales of hay and dumpsters. Do you prefer dirty dry sticks of hay or literal trash? The choice is easy for Assassin's Creed fans or Sesame Street fans, so which are you?
Because it's so early in the season, there aren't many resources out there just yet pinpointing the precise locations of every dumpster and haystack on the map. Similar to something like a vending machine, they appear all over the map in fixed locations but they aren't everywhere. You'll almost always come across one of them in a match, but if you aren't paying attention you might wander right by. You're probably used to seeing dumpsters and hay pre-Chapter 2 and filtering it out as random, useless objects. There are some easy ways to seek them out, however.
Generally speaking, haystacks are in more rural areas and dumpsters in more developed environments. Frenzy Farm is the obvious choice for hay — but it's also where almost everyone will go for this challenge. Places like Retail Row or Dirty Docks are great choices for dumpsters. Look behind businesses and other major buildings (just like real dumpsters, I guess?)
I've also got a very special bucket of trash in mind that'll make this first challenge easy to breeze through in three matches.
In the northeast corner of Retail Row, there's a dumpster on the north-facing side of a gas station. For the more straightforward early Hideout challenge, this is a safe bet. For the later challenge requiring you to deal damage, Frenzy Farm is the better option. Either way, get used to hiding out in a dumpster or haystack and waiting for enemy players to walk by. It's going to prove a fruitful strategy as Chapter 2 progresses.
Fortnite: Battle Royale Chapter 2, Season 1 has only just begun, but according to the in-game countdown, it should end on December 7, 2019.