'Pokémon Sword and Shield' adds Gigantamax Fat Pikachu, Butterfree and Eevee
Gen 1 got a lot of love in today's announcement.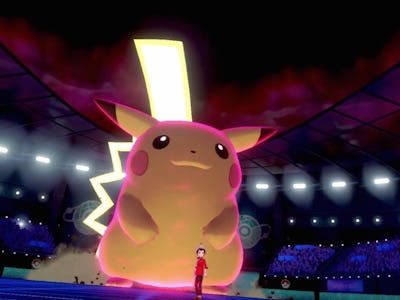 Game Freak / Nintendo / The Pokémon Company
The launch of Pokémon Sword and Shield is less than a month away, and Game Freak is ramping up the reveals for the long-awaited arrival of Gen 8 on the Nintendo Switch. On Wednesday, the developer shared the first footage of the Gigantamax forms of Pikachu, Meowth, Eevee, Charizard, and Butterfree. Not only are they all freakin' adorable, they really pack a punch.
Each of the five new Gigantamax forms has its own exclusive move, and some can only be acquired by meeting certain requirements. Let's break it down.
Pikachu's G-Max Volt Crash damages and paralyzes its opponent. You can get Gigantamax Pikachu if you have a save file from Let's Go Pikachu on your Switch.
Eevee's G-Max Cuddle will infatuate enemies of the opposite gender. You'll need a Let's Go Eevee save for this one. Consider us smitten.
Charizard's G-Max Wildfire does damage to all non-fire-type enemies for four turns. This looks pretty spiffy and seems like a handy way to rack up some passive damage.
Butterfree's move, G-Max Befuddle, inflicts one of three status ailments on your enemy: Poison, Paralysis, or Asleep.
Gigantamax Meowth is a early-order bonus. If you buy a copy of Sword or Shield before January 15, you'll get access to his G-Max move Gold Rush, which snags you a nice cash bonus and confuses your enemy. Also, gotta love his impossibly long tube body.
Wanna check out all these sick moves for yourself? They're all in the new trailer below.
We're glad to see Pikachu back in his thicc and sexy form from the late 90s, though it's not surprising that our favorite yellow lightning boy would get a special Gigantamax form. This is one of those instances where bigger is definitely better, and we love the look of this adorable superchonk. As you can see, there is a little bit more of Gigantamax Pikachu to love than in his Dynamax form, shown below.
If you're a bit confused by the new jumbo Pokémon heading to Sword and Shield, Gigantamaxing is basically a souped-up form of Dynamaxing — the term the Gen 8 games use for Godzilla-sized Pokémon. Gigantamax Pokémon might look a bit different from their Dynamax forms, like Pikachu does. Sadly, they don't grow another order of magnitude in Gigantamax form. However, these versions are a bit more powerful and slightly trickier to obtain.
Pokémon Sword and Shield comes to Nintendo Switch on November 15.