New spacesuit, new me: NASA unveils new fit to match new vision of the moon
The new suit allows astronauts to walk on the moon, rather than 'bunny-hop.'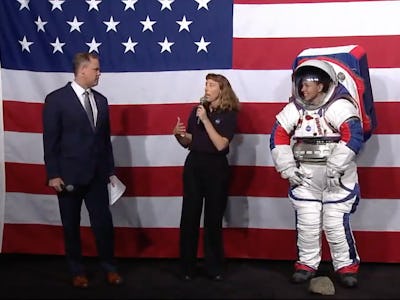 NASA
Dressing up for the moon can be tricky. NASA wants to make sure that when astronauts are up on the lunar surface this time around, they can move their fingers, bend over, and pick up moon rocks — with less hopping and stumbling around than their Apollo predecessors.
On Tuesday, NASA unveiled two new spacesuits for the upcoming Artemis mission, scheduled to lift off for the moon in 2024. The modern, capable suits match the space agency's updated vision for a moon mission that is all-inclusive, and one that celebrates private, as well as international, partnerships.
At NASA headquarters in Washington, D.C., NASA Administrator Jim Bridenstine was joined onstage by spacesuit engineers Kristine Davis, wearing the Exploration Extravehicular Mobility Unit (xEMU), and Dustin Gohmert, who was wearing the Orion Crew Survival System.
Davis demonstrated the added mobility that the new suit provides, rotating her shoulders, wiggling her fingers, and bending down to pick up a moon rock prop and awkwardly handing it to Bridenstine before walking offstage.
"To be clear, Kristine is wearing a spacesuit that will fit all of our astronauts when we go to the moon," Bridenstine said, in a not-so-subtle nod to NASA's plan to send the first woman to the moon with Artemis.
NASA is also preparing for the first all-female spacewalk this week, after amending a little snafu that happened earlier this year when a lack of size medium space suits aboard the International Space Station forced the historic event to be rescheduled.
Another promise Bridenstine made about the suits was that they'd allow for more graceful moon exploration.
"The Apollo generation, Neil Armstrong and Buzz Aldrin, they bunny-hopped on the surface of the moon," he said. "Now, we'll be able to walk on the surface of the moon, which is very different than our suits of the past."
Spacesuit designer Amy Ross explained her task in crafting the new spacesuits during the event.
"My job is to take a basketball, shape it like a human, keep them alive in a harsh environment, and give them the mobility to do their job," she said.
Ross elaborated on the basketball reference later on, detailing how the suit is designed to operate in 8 pounds per square inch of pressure, while a basketball is designed around 9 pounds. "We wanted to make the suit flexible under that pressure," Ross added.
Another way the designers behind the new suit increased its flexibility was by getting rid of zippers and cables.
Meanwhile, Gohmert followed up with the spacesuit designed for the trip to and back from the moon, complete with environmental control and life support system.
"This is the suit that gets us there, and gets us back safely," Gohmert said.
Throughout the demonstration of NASA's new fits, Bridenstine slid in the agency's new messaging for its upcoming mission — one that targets longevity and welcomes commercial and international partners.
"We are looking to do things in space that we've never been able to do before," Bridenstine said.
"This time when we go to the moon, we're going sustainably," he added. "In other words, we're going to stay for long periods of time, we're also gonna go with commercial partners and with international partners."
The NASA administrator reiterated that the agency wants to build an open architecture around the moon, and will make its resources and data available for the wider public online, whether it's a small country with lunar ambition, a private company, or a scientist simply wanting to expand their research.