What time does 'Living With Yourself' release on Netflix?
Indulge in twice the recommended dosage of Paul Rudd's timeless, handsome charm.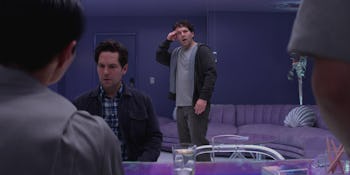 Netflix
National treasure Paul Rudd has a new Netflix show coming out this week, Living With Yourself, in which he plays a downtrodden shlub named Miles, with a dull job and a wife who doesn't seem to like him much anymore. (Clearly, this woman is some kind of lunatic.) Desperate for a quick fix to his existential crisis, he does what anyone in his situation would do: go to a sketchy strip mall spa for a treatment that promises to "rebuild your DNA better than ever." It works, and he strolls out feeling rejuvenated, but there's a catch. There's now two versions of Miles: the chipper one who's got his shit together, and the scruffy sad-sack he used to be.
If you're wondering when you can binge all eight episodes of Living With Yourself, you've come to the right place. Netflix typically rolls out new releases at 12:01 a.m. PT. That means if you're on the East Coast, you won't be able to indulge in your own personal Ruddfest until 3:01 a.m on Friday.
Judging from the trailer above, there's a lot of hijinks to be had in this batch of 30-minute episodes. We see Miles having a solemn conversation with himself over coffee in a diner, glowering as he watches his smoother doppelganger shmooze with his wife and their friends, and even and a couple of instances of him attempting to beat the crap out of New Miles. If you've ever wished you had a clone to help manage your life, Living With Yourself might give you second thoughts.
In a recent interview with U.K. newspaper The Independent, Rudd discussed one of the scenes shown in the trailer — Old Miles waking up in a shallow grave and shambling back to civilization. "That's the great thing about New York," he explained. "Somebody getting out of the ground in a diaper is the third weirdest thing they've seen that day."
Rudd went on to say that what appealed to him about playing Miles was his sense of feeling stuck and not really knowing how to fix it. "I think that's something we all experience at different points in our life," he elaborated. "We go to therapy, we want to go to the gym, we want to do everything we can to try and improve our mood, try and improve our appearance, try and improve everything." Apparently nobody's life is perfect, even if you're one of the Avengers.
Living With Yourself arrives on Netflix October 18.