When will 'Fortnite' be back up? Leaks reveal when black hole will go away.
Here's what you need to know.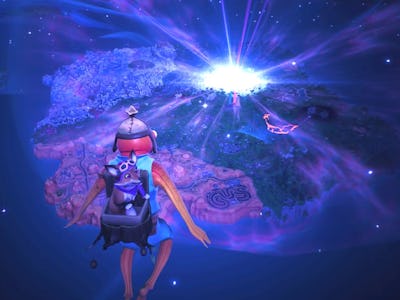 Epic Games
Fortnite: Battle Royale is gone, swallowed by a black hole never to return. At least, that's what some Fortnite fans worried after the game went dark in extremely dramatic fashion on Sunday afternoon. Cooler heads recognize that Epic Games is simply building hype for Fortnite Season 11 (possibly called Chapter 2), which could introduce a totally new map to the game, among other changes.
But when will Fortnite be back up, and when will the black hole disappear? With no official word from Epic, fans have turned to Fortnite leaks and subtle clues to figure out exactly when the popular battle royale game will return.
The first big leak came from usually reliable Fortnite data miner Lucas7yoshi, who spotted some hidden code in a recent update suggesting the black hole event, officially titled "The End," could resolve itself by Tuesday at 6 a.m. Eastern. However, he later added that this date seemed pretty nebulous, with Epic shifting it from Tuesday to Thursday morning "at a whim."
Meanwhile, the Chinese version of Fortnite seems to be telling players that the game will return on October 15 (aka Tuesday). So it's possible that first leak could be right.
Finally, our last clue comes from Fortnite pro Tyler "Ninja" Blevins, who seems to be working directly with Epic Games to tease the start of Season 11/Chapter 2. He tweeted a video on Sunday that's just a black image with audio of him whispering the word "tacos."
Is Ninja trolling us or is this a subtle reference to Taco Tuesday? If it's the latter, this could be the confirmation we need that Fortnite is returning tomorrow morning.
Either way, with the next season expected on Thursday, October 17, Fortnite only has a few days to mess around with this black hole nonsense before it's back to business.