'Shazam!' director confirms Booster Gold DCEU theory in chillest way ever
"Why not. That's canon now."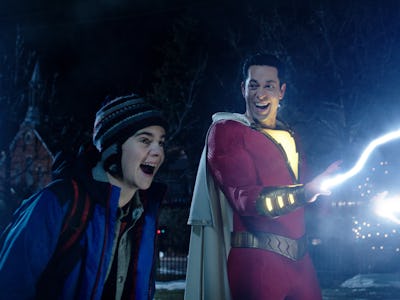 Warner Bros.
One of the most enduring debates in fandom is how much to trust creators. Typically, their word is divine rule. But sometimes, you get J.K. Rowling, who years after the end of Harry Potter is still out there adding stuff to lore that her books never brought up. Give him the money and resources, and George Lucas would probably still be tinkering with the original Star Wars trilogy.
Which is what makes David F. Sandberg, the director of Shazam! so much fun. On Twitter, a fan asked Sandberg if a minor character in the film — a little boy bashing Batman and Superman toys at Christmas — is actually a young Booster Gold. In the comics, Booster Gold is a fame-seeking hero from the future who travels in time to hang out with the Justice League.
Sandberg, who claimed to be in a good mood, basically allowed it.
"You know, I'm in a good mood tonight," Sandberg tweeted. "Yeah, sure, that's Booster Gold. Why not. That's canon now."
I take full responsibility in being a "clown" reporting on this shocking revelation. But the larger point is how self-aware Sandberg is being towards speculative fan culture, an overflowing fountain from which even half-baked theories get the slightest validation from stray breadcrumbs in the plot and dialogue. In the comments to Sandberg's tweet, fans joked that geek news outlets are totally going to report on the "news."
I mean, yeah. Guilty.
Here's the reality: There's nothing in Shazam! to suggest the boy is Booster Gold other than his blonde hair and love of superheroes. But because a character like that exists in the DC Universe, not to mention an actual Booster Gold movie in development limbo, then that's gotta be Booster Gold. Right?
Not necessarily. But thinking like that is, admittedly, part of the fun in spending time in fictional universes like Marvel, DC, or galaxies far, far away.
At the same time, fans are clued in on Sandberg's sarcasm, likely due to the subversive, wholesome tone of the movie. Yes, Shazam! is set in the DCEU which is slavish to things like Easter eggs and references. But as a heartwarming story of an orphaned boy living out the ultimate dream, all of the movie's Batman references really took a backseat to Billy Batson's journey.
If Sandberg were overseeing any other piece of pop culture, like Game of Thrones, Avengers: Endgame, and Star Wars: The Last Jedi, his casual tweet would have made Reddit and Tumblr have a complete meltdown. But his utterly casual, "Why not" of it all, frankly couldn't be more Shazam.
Shazam! is available now on Digital HD and Blu-ray.