Your Guide to Apple's "Hey Siri" Event Wednesday
iPhone upgrades and Apple TV gets real.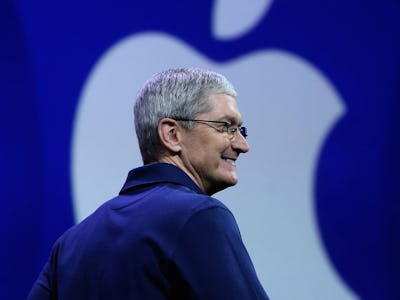 Getty
Apple announced its September 9 event teasing "Hey Siri, give me a hint." But as she is so often wont to do, Siri stonewalled us all except for a cheeky kiss-off in binary. We'd never do you like that. Here's what to expect from tomorrow's big announcement.
Siri Upgrade
It's only fair to expect something here given the event's name, and a smarter Siri is on the horizon. Reporters are predicting a rollout of smarter software that will make it easier to set up automated homes, like turning on your lights and opening window shades. Siri might also start launching apps based on tracking your habits and matching Google's practice of syncing your calendar and contacts based on email.
iPhone 6s
Get ready for a 6s and 6s Plus unveiling. This is the one reveal that's all but assured, following Apple's solid schedule of major smartphone upgrades every two years with a bump in between. A better camera is rumored, with hardware that can capture 4k resolution, a much faster A9 processor, and a rose gold offering. Following the Macbook and Apple Watch upgrades, Force Touch will likely also be added, though exactly how the phone will react to being pressure-sensitive is uncertain. Apple should throw in some new wallpaper while they're at it.
Apple TV
This is the big leap. Apple's called their low-key sets a "hobby," but there's no way they're leaving all those wads of streaming cash on the table. The new box should look similar to current models, but with upgrades like a mic for Siri input and larger tactile buttons to navigate a home screen as well as new bundled remote and a software upgrade to the same iOS found on iPhones and iPads. The company is supposedly in talks to launch its own streaming service, though deals aren't far enough along to have anything ready for the masses Wednesday. In place of that, you might see a new video game console targeted to the casual gamer.
iPad Pro
The rumor mill has it that just as your iPhone increased in size, so too could a new pad go bigger with Tim Cook announcing a 13-inch tablet. If announced, and it's iffy, Vox speculates the upgraded device would be targeted at business users and feature software developed in partnership with companies like IBM.
Apple News
Dear to our journalistic hearts, Apple has supposedly been working on a news reading app and we might finally get a look Wednesday. This might take a fragmented media and bundle it into a human-curated app that would let you browse the news the way your forefathers browsed the newspaper. Everything obsolete is retro.