'American Horror Story 1984': 3 theories to know for Episode 4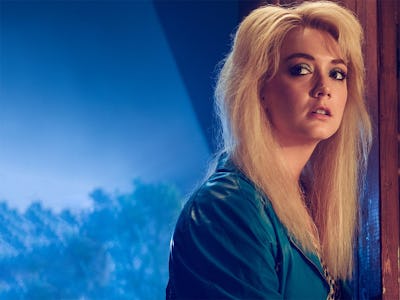 FX
The overarching theme of American Horror Story Season 9 thus far seems to be revenge, and Episode 3, titled "Slashdance," made that abundantly clear. The most intriguing of episode of the season so far, "Slashdance" was full of twists, turns, and shocking reveals. Montana is working with the Night Stalker and Nurse Rita — who is actually a psychologist named Donna Chambers — broke Mr. Jingles out of the mental institution. Just like that, Episode 3 may have completely altered the trajectory of AHS: 1984.
With so many questions left unanswered in Episode 3, Margaret is no longer the primary suspect. Here are three theories to know for Episode 4.
Speculative spoilers ahead for Season 9, Episode 4 of AHS: 1984.
3. Brooke is Montana's target
Perhaps one of the biggest shockers of Episode 3 was the reveal Brooke had been working with the Night Stalker. As she and Ray attempted to escape Camp Redwood and call for help, the Night Stalker showed up and thwarted their plans. Cowardly Ray managed to escape, only to be beheaded by Mr. Jingles. Montana should've been scared of the Night Stalker, right? Wrong. Just as we thought he was about to gut her, Montana kisses Mr. Jingles and then chides him for not killing "her".
There are two people Montana could have been referring to: Margaret and Brooke. Although Margaret is a primary suspect for all the happenings at Camp Redwood, not to mention that weird interaction she had with the Night Stalker in Episode 2, Montana is probably looking to exact revenge on Brooke. But, why would she want to do that?
Remember when Brooke revealed her tragic backstory to Montana in Episode 2, about her jealous soon-to-be husband? Well, what if Montana shares a past with Brooke's dead fiancé, who killed himself at the wedding? Could Montana be his sister? A jaded ex-girlfriend? Either way, she might blame Brooke for what happened and may have hired the Night Stalker to kill her. Notice how he hasn't gone after anyone else in the camp with such ferocity. If he and Montana have been working together for awhile, it makes the most sense that Brooke is their main target.
2. Ray isn't dead and will return as a ghost
Shocking, I know, but hear me out. Yes, we saw Ray's head get chopped off by Mr. Jingles and it was gruesome. However, AHS: 1984 has already set the stage for the dead returning to camp. If you recall, Episode 2 revealed that the unknown hiker was actually Jonas, one of the kids killed in the original Camp Redwood murders. He's a ghost now and, considering how Ray died before he could leave the camp grounds, it's possible that he'll be back the same way Jonas returned. If nothing else, coming back as a ghost might redeem his cowardly behavior in Episode 3 and he could prove to be an asset in taking down Mr. Jingles.
1. Donna Chambers, a.k.a Nurse Rita, is not really a psychologist
Turns out, "Nurse Rita" isn't really a nurse and her name isn't Rita. Her real name is Donna Chambers (or so she says), and she's a psychologist looking to redeem Mr. Jingles. You see, she doesn't believe people are born good or evil. Much like serial killer Ted Bundy, who she claims to have interviewed, Donna believes that access to pornography and the objectification of women ultimately leads otherwise good men to become murderers.
However, Donna shouldn't be trusted, not after she helped Mr. Jingles escape. Though she claimed to have interviewed other well-known serial killers, including William Bonin, John Wayne Gacy, Patrick Kearney, and Robert Hansen, Donna could also be lying about being a psychologist. Why should we trust anything she says now? Why kidnap Brooke and no one else? Is she working with Margaret? It's possible, as they seem to share the same views on sin and she could have just as easily lied to Mr. Jingles like she did to the camp counselors.
No matter what happens, every character has become a suspect. And with all the discoveries made in Episode 3, Season 9 is even more mysterious than it was before.
American Horror Story: 1984 airs Wednesdays at 10/9c on FX.