Surface Neo and Duo: Microsoft's dual-screen devices rethink the computer
This isn't your average Surface.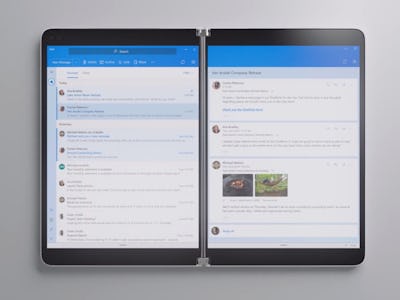 Microsoft 
What do you get if you cross a laptop with a tablet? For many years, consumers assumed it was the Microsoft Surface, a tablet with a clip-on keyboard released in 2012. Microsoft came up with a better answer in 2015 with the Surface Book, a laptop with a detachable screen.
With the Surface Neo, unveiled Wednesday, Microsoft may have defied expectations all over again. The Windows-powered dual-screen device was revealed alongside a wide array of other upgrades at an event in New York — including the Surface Duo, an Android-powered dual-screen smartphone.
"When we started Surface, we had this vision…to remove the conflict between the laptop and a tablet," Panos Panay, chief product officer of the Microsoft devices group, said on stage at the event. "Today we want to introduce you to a new product that I believe is the next category."
It's a big moment for Microsoft, which has been working on a similar concept since at least 2009. The Courier concept detailed back then showed two multitouch screens and a stylus to mash together multiple user interfaces. The concept came the year before the iPad launched, and it looked futuristic as hell. Microsoft was subsequently rumored to be working on a similar device under the codename "Andromeda."
Based on what Microsoft demonstrated Wednesday, it may have been worth the wait. Both devices offer a full 360-degree hinge, meaning they can be used in a laptop mode, a full flat tablet mode, a vertical book mode, flipped over as a stand, or even folded back into a half-size tablet.
Although both devices won't launch for another year, it could transform how users interact with computers. It could prove similar to how the iPhone and iPad's button-free displays were obvious progressions for the smartphone and tablet in hindsight.
Apple CEO Steve Jobs famously dismissed hardware buttons when he introduced the iPhone in 2007:
"Every application wants a slightly different user interface, a slightly optimized set of buttons just for it. And what happens if you think of a great idea six months from now? You can't add a button to these things, they're already shipped!"
Perhaps little wonder that companies have sought to add more touchscreen space. Apple has experimented with the MacBook touch bar and Samsung with the Galaxy Fold. The prospect of a dual-screen laptop without fixed buttons could potentially seem like a clear progression in years to come.
Surface Duo: what to know
Surface Duo is the company's first Surface smartphone. It runs a version of Android 9 Pie, modified to look closer to the version of Windows running on the Neo and to support dual screens. It has two 5.6-inch screens, which when unfolded measure around eight inches diagonally together. Inside is a Qualcomm Snapdragon 855 processor. While there's currently no rear camera, the design is early days and subject to modification.
"The next time you have to write a long email on your phone, and then you normally have to switch to a Surface or Mac to finish it?" Panay told Wired. "You don't have to do that again."
Surface Neo: what to know
The Surface Neo is a dual-screen device, powered by what The Verge claims is an Intel Lakefield chip and an 11th-generation graphics chip. It has two nine-inch screens, which can fold out to make a single 13-inch screen. The whole thing weighs 655 grams.
It runs Windows 10X, a variant of Microsoft's operating system better designed for dual-screen devices. Microsoft assured viewers that it would run the same applications as regular Windows. Under 10X, opening an app launches it on the screen where the user made the request. They can open another app on the other screen, or pull one app across both screens with a technique called "spanning."
Optional extras include a Surface Pen stylus, a Bluetooth mouse, and a magnetic keyboard that attaches and flips over. With the keyboard attached, the lower screen can display a regular mouse trackpad, plus extras like GIFs and emojis for use in emails.
Neither device has a price, but both are expected to launch in the holidays in 2020.