How to Cancel a 'Mario Kart Tour' Gold Pass Subscription on iOS and Android
Free-trial users will automatically be charged if they don't cancel.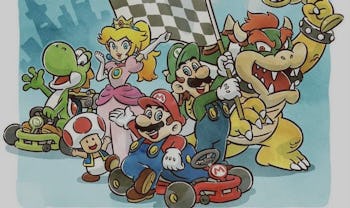 Nintendo
Mario Kart Tour has sped onto smartphones around the world, giving Nintendo fans mobile access to the classic racing franchise. The game is completely free-to-play, unlike its console counterparts, but it's also rife with borderline outrageous micro-transactions and subscription options.
For $5 a month players can sign up for the Gold Pass, which will give them access to 200cc racing, more rewards, and exclusive challenges. This might be tempting for diehard fans, but when compared to the $5-per-month Apple Arcade subscription that offers access to up to 100 exclusive mobile games, the Gold Pass is one big disappointment.
Nintendo offers a two-week free trial of the Gold Pass, but once that period is over, your Apple ID or Google Play account will automatically be charged $5 for another month. The only way to avoid the fee is to manually cancel the subscription, which isn't very straightforward.
If you're anything like me, the process of canceling your Mario Kart Tour Gold Pass subscription is a little confusing, here's a guide for how to do it on iOS and Android.
Cancel Mario Kart Tour Gold Pass on iOS
While signing up for the free trial was done completely through the Mario Kart Tour app, canceling the subscription doesn't involve the app at all. iPhones users will need to navigate to the App Store instead of scrolling through the games' settings.
Open the Settings app and scroll down to the iTunes & App Store sub-menu. Then tap Apple ID > View Apple ID > Subscriptions to access a list of every app that's set to charge your account every month. From there, canceling your account is just a tap away.
Cancel Mario Kart Tour Gold Pass on Android
Just like iPhones, canceling Gold Pass on Android devices can't be done on the the Mario Kart Tour app either. Open the Google Play Store to get started and tap the hamburger button at the top left next to the Search bar.
From there, tap the Subscriptions sub-menu, which will bring up all of the reoccurring charges users have set up through the Google Play Store. Hit the Mario Kart Tour option and cancel the scheduled payment to avoid being charged.
What happens after canceling Mario Kart Tour Gold Pass?
Once canceled, users will lose access to 200cc races, gold prizes, and gold challenges after their final subscription period ends. That means 150cc races will be the fastest speed you'll have access to and you should expect less coins, rubies, and tickets from each race.
Mario Kart Tour is out now for iOS and Android devices.