The creepy art of Shawn Coss might help you crawl out of depression
Coss wants to "hug the sh*t" out of you.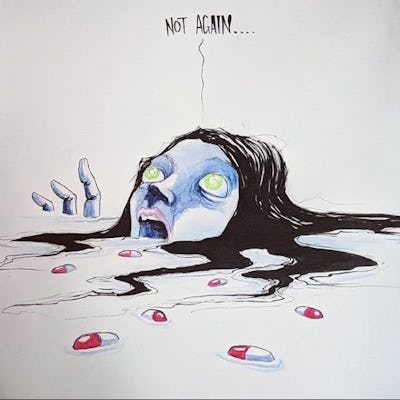 Shawn Coss
Shawn Coss is an Ohio-based artist who describes his work as "complete and utter darkness with just a hint of light." He contributes to the popular online comic series Cyanide & Happiness, is the co-owner and designer of the clothing brand Any Means Necessary, and is a registered emergency room nurse. Coss is also the creator of the mental health art series "Inktober Illness," a take on the art challenge "Inktober."
This week, he's bringing his "Inktober Collection" to New York Comic-Con. Inverse recently spoke with Coss about why he's a mental health advocate, the relationship between art and mental health, and how the series has affected him personally.
A version of this article first appeared as the Sunday Scaries newsletter. Sign up for free to receive it on Sundays.
What's the inspiration behind "Inktober Illness"?
Inktober is an art challenge that an illustrator named Jake Parker started in 2009. It gives people prompts, but I've never really liked following directions, so I started thinking about what could be my take on it. A fan suggested that I should depict mental illness, and I've always had a fascination with mental health and why we are the way we are.
I started on my first piece, which depicted borderline personality disorder. I read a bunch of case studies, and a friend who is an art therapist explained some of the nuances of the condition. I posted that first image on Facebook where it kind of blew up at me in the most positive and negative ways.
On the negative side, people were upset by it. I got messages like, "you don't know what it's like" and "this is not my illness." And of course it's not — I'm an artist trying to take something that is so complex and condense and distill it down into one image. It would be impossible to create something that reflects everyone's experiences.
On the positive side, I've lost track of how many therapists and art therapists have contacted me saying that they've used my illustrations in their therapy sessions, and the artwork has helped patients — especially younger patients — express how they feel. That's a pretty amazing feeling for me. It's also sad, because some of the artwork I make is very dark in nature.
In what ways has this series affected you?
This series has helped me, for the first time, come to grips with my own mental health and instability. I am diagnosed with ADHD and deal with bipolar issues. I've seen a therapist for the longest time and grew up in a household where you're not supposed to share feelings much. There was a message of you don't have depression or sadness.
Creating this art has really helped me examine a lot of things I've been kind of suppressing and allowed me to put new pieces of myself into the artwork. It's also brought me closer to fans than my previous work.
Are there certain pieces in the "Inktober Illness" series that you've connected to most?
Yes. When I created the ADHD, the generalized depression, and the bipolar disorder pieces, those ones hit close to home. I suppose that's because I was drawing how I feel when I go into my manic mode — when I hit my lows.
I never really had an attachment to my work growing up. I just created what I thought was cool — you know, skulls, skeletons, all this deep, demonic stuff. I never had any emotional attachment to that work. But since I started this Inktober series in 2016, a lot of my artwork has been directed toward the human condition and emotions, like the feelings of loss and abandonment. The opposite of my work is saying, "You just need to stop feeling sad; stop feeling crazy." Sometimes, it's okay to say, "No, this what I feel, and that's fine."
In what ways do you hope these darker interpretations of mental health contribute to the conversation?
I'm not trying to intentionally shock anyone, but I'm also not painting a pretty picture of something that's not always a pretty sight. When I'm in a manic mode, that shit is not pretty. I think why I connect to this art, and why my fans connect to this art, is because I'm not sugarcoating anything. I'm saying, "Yeah, this sucks, and I get it."
For example, I've seen art representing mental health that's, like, a cute little girl sitting down with a wilted flower in her hand. I personally have no attachment to that. But I was struck by a meme I saw that has this sort of crudely drawn creature, and there's a blackness taking it over, and the creature is saying, "No, stop — I did everything right." I looked at that, and in that image I saw depression.
The amazing part of being an artist is being able to create something that people are going to relate to. And it may have different meanings for different people. I think the variety of meanings someone can take from something is more important than someone saying, "This is what it is, and this is how you're supposed to feel."
What's the future look like for you, when it comes to your mental health artwork?
Every year in May my business partner and I bring back these pieces and share them for Mental Health Awareness Month. People can buy them as prints, on clothing, or as a collection, and then that money becomes donations for mental health research.
Recently, I've taken a pause in creating new mental health artwork because I needed to pull back some. When I first made the series, I couldn't stop myself from creating it, and I think I should create again when I get back to that place. Ultimately, it became a little overwhelming for my own mental health because hundreds of people send me very intense emails about their struggles, like losing children or wanting to harm themselves.
It became very heavy for me, and while I want my work to be something people can turn to, I have to find a balance. Luckily, other artists participate in this Inktober series, too, and it's an honor to see how other people are portraying how they're feeling.
No matter what, if someone comes up to me at a comic-con, and they spill their heart, I'm going to hug the shit out of them. I will say, Look, you're not alone in this. We're all screwed up, and we can figure this out and lean on each other.
If you're interested in seeing more of Coss' work, check out his Instagram.