PS5 patent suggests it could copy a feature from Google Stadia and iPhone
This could be a defining feature for next-gen consoles.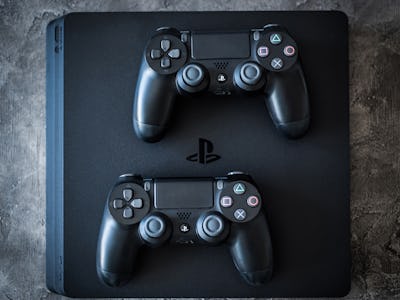 In Green / Shutterstock.com
PlayStation 5 gamers may never have to pause their consoles to search for a game guide or walkthrough for a pesky quest ever again.
Sony Interactive Entertainment filed two patent applications on September 26, which suggest its next console will feature an artificial intelligence-powered voice assistant to help users when they get stuck on a boss fight or puzzle.
The PS5 could have a Siri-like voice assistant
Sony wants to integrate gameplay with the second-screen experience, letting gamers ask the console for help as if it were a friend sitting next to them on the couch. This "gaming assistant" could work a lot like Apple's Siri and the Google Assistant, using a microphone to pick up users' questions and a neural network to respond.
Answers could range from one-word responses to overlaying YouTube walkthroughs, or even connecting gamers to an "expert" for real-time tips. In a United States Patent and Trademark Office application titled "Voice Help System Using Artificial Intelligence," Sony describes how its proposed system could help gamers overcome a boss in Skyrim.
"The game assist feature is available to the user, wherein the player may enter queries through a microphone… The player is shown triggering the PlayStation Assist application, such as through a trigger word 'Hey PlayStation.' The query entered relates to information about defeating a dragon (Mirmulni) shown in the game play. After matching the query to an appropriate response… the game assist server supporting the PlayStation Assist application may match the query to a response."
According to the patent, the assistant would have the ability to determine the best response to questions. That could even include starting a text or voice chat with a dedicated expert to guide players through the toughest areas of their favorite games.
Sony's filing seems to suggest the company will have a team of savvy gamers on standby to help players stuck on a particular area. Picture tech support, but for in-game quests and puzzles. Here's a snippet of the patent application describing the feature:
"A first expert is assigned to the first player for obtaining assistance. A communication session is generated between a device of the first expert and a device of the first player to enable the first expert to render assistance to the first player."
Consoles are getting smarter
Digital assistants, like Siri and the Google Assistant, could soon become staple features in consoles.
Microsoft announced the Google Assistant voice capabilities in its Xbox One consoles on September 26. These new features will let gamers toggle game volume, pause, and take screenshots all with voice commands.
The controller Google plans to launch alongside the Stadia cloud gaming service will also include a Google Assistant button. Users will be able to press a button found on the center-left of the device to ask the voice assistant for help while they are in-game.
"It allows players to immediately access the controller's built-in microphone so they can get help from the Assistant for special, in-game features," explained Google VP Phil Harrison, which is identical to what Sony proposed in its patent applications.
Next-generation consoles and game streaming services won't only come with improved graphics and load times, they'll be smarter and more adaptable to gamers' needs than ever before. Pausing a game to quickly look up a walkthrough might soon be a thing of the past.