Nintendo reveals dismal  'Mario Kart Tour' pipe drop rates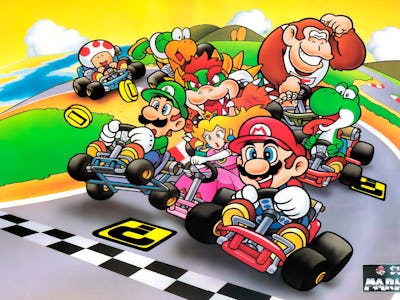 Nintendo
Mario Kart Tour brought Nintendo's signature racing series to iPhones and Android devices Wednesday. Speed seekers can now floor it down Rainbow Road on their smartphones, but the mobile game is a far cry from what fans have come to expect from past console versions of the game.
For starters, there's no multiplayer mode yet, so players can only see how they rank against the competition with the game's online leaderboards. This score can be boosted by racing with specific racers, karts, and gliders on various courses. But the only way to collect new items is to get lucky and roll them using the Mario Kart Tour loot box system, or pipes.
Unfortunately the odds of getting the rarest items are slim, unless you want to spend hundreds in microtransactions or play the game for hours on end. Users can view the odds of Mario Kart Tour drops by tapping "Details" right before they open a pipe in the game.
How doMario Kart Tour pipes work?
Each users can open or "fire off" up to 100 pipes per week using rubies, which can be purchased or earned by grinding races. Every opened pipe whittles down the total rewards available to players for a given week.
The finite number of weekly prizes means players are guaranteed to be rewarded at least one item of each rarity by the time they've fired 100 pipes. But the specific items received are random for each category, except the unique "Spotlight" rewards that change bi-weekly for in-game events.
It takes 450 rubies to open 100 pipes. That's well over $200 in real-world cash if gamers choose to buy them. The only other way to collect rubies is by completing cups (made up of four races) or place in at least 6th place on the leaderboard.
First place earns 20 rubies when the weekly competition is over, second gets 15, third gets 10, and fourth through sixth get five. Even if you manage to smoke the competition, earning 450 rubies in a week is nearly impossible without paying.
Here are the items available in Mario Kart Tour pipes and the chances of obtaining them:
Mario Kart Tour item quantity by rarity
Here are the maximum number of each item type that can by won by firing 100 pipes:
High-End Spotlight: 1 Driver, 1 Kart, 1 Glider
High-End: 1 Driver, 1 Kart, 1 Glider
Super: 9 Drivers, 7 Karts, 4 Gliders
Normal: 32 Drivers, 26 Karts, 16 Gliders
Total: 43 Drivers, 35 Karts, 22 Gliders
Mario Kart Tour drivers drop rate:
High-End Spotlight (1 percent): Pauline
High-End (0.25 percent): Dry Bowser, Metal Mario, Peachette, Musician Mario
Super (1 percent): Donky Kong, Toad Bowser, Mario, Peach, Yoshi, Daisy, Diddy Kong, Toadette
Normal (5.33 percent): Koopa Troopa, Dry Bones, Baby Daisy, Baby Mario, Baby Peach, Shy Guy
Mario Kart Tour karts drop rate:
High-End Spotlight (1 percent):: Yellow Taxi
High-End (0.33 percent): B-Dasher, Badwagon, Blue Badwagon
Super (1 percent): Daytripper, Mach 8, Soda Jet, Barrel Train, Turbo Yoshi, Flame Flyer, Super Blooper
Normal (5.2 percent): Birthday Girl, Bullet Blaster, Mushmello, Pipe Frame, Koopa Dasher
Mario Kart Tour glider drop rate:
High-End Spotlight (1 percent): Fare Flier
High-End (0.33 percent): Swooper, Gold Glider, Bullet Bill Parachute
Super (1 percent): Flower Glider, Peach Parasol, Bob-omb Parafoil, Shell Parachute
Normal (5.33 percent): Super Glider, Parachute, Parafoil
Mario Kart Tour is available now for iOS and Android devices.