Everything we (don't) know about 'Mario Kart Tour' multiplayer mode
Because falling off Rainbow Road is even worse when you're all alone.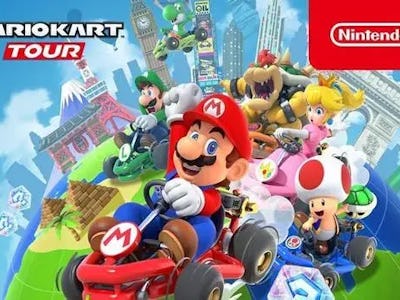 Nintendo
Mario Kart Tour has arrived on iOS and Android, and Nintendo diehards everywhere are wondering how they can get in on the action with their soon-to-be-former friends. After all, there are few things in life more satisfying than lobbing a heat-seeking red shell at an unsuspecting pal just as they're about to breeze past the finish line on that final lap. Unfortunately, while Mario Kart Tour will include a multiplayer mode at some point, it's not yet accessible in-game. For now, the mobile racing action is a single-player experience, and the only way to gauge how you rank against the competition is via the game's online leaderboards.
Even though it's not available yet, we definitely know competitive play is coming to Mario Kart Tour, courtesy of the game's UI. A blue, globe-shaped icon in the settings menu says "Inbound," suggesting the mode could roll out relatively soon. However, Nintendo doesn't give a specific launch date in-game or on the official site. So it's not clear yet what multiplayer will look like in Nintendo's latest mobile title.
Console versions have offered a number of head-to-head options, allowing players to take on pals in a series of races and vie for a place on the podium, or face off in the frenetic Battle Mode. In the latter, each player has three balloons over their kart, and can withstand three hits from weapons and on-course obstacles before getting knocked out. The main goal of Battle Mode is serving the pain to your opponents as quickly as possible. (Pro tip: pinning down your younger sibling in a corner to wipe out all their balloons in seconds is a great way to set off an epic tantrum!)
Judging from Nintendo's past mobile offerings, we suspect that Mario Kart Tour's multiplayer probably won't have the depth of the console versions. We expect something akin to Super Mario Run's "Friendly Run" mode or the time trials seen elsewhere in the Mario Kart franchise, where you'll race against a "ghost" version of another player. Asynchronous multiplayer would also place far less stress on the servers.
It's also not clear at this point whether multiplayer in Mario Kart Tour will be tied to the game's subscription Gold Pass in any way. For a rather steep $4.99 monthly subscription, players will gain access to exclusive items, weaponry, and a 200cc mode for those hardcore types who crave an extra challenge. All players will get a free two-week trial of the Gold Pass upon downloading the game, plenty of time to gauge if it's worth the price.
Servers for Nintendo's streamlined mobile racer went live early this morning, around 5 a.m. ET. However, it's been a rocky few hours post-launch, with users reporting delayed downloads, server outages, suspiciously timed "maintenance" issues and seemingly unresolvable error messages. 
Mario Kart Tour is available now for iOS and Android devices. Multiplayer is coming … eventually.