The Best Blenders Under $100
You don't need to practically put down a down payment on a house to make a decent smoothie.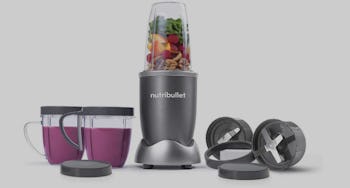 Amazon
Looking to making a healthy change in your life? You have to give yourself the right tools. While utilizing gym memberships and eating healthier food sounds relatively simple, in a world that is constantly go-go-go, making time for those things can be a challenge. Honestly we don't really have a simple answer to the gym problem, but eating healthier doesn't have to be complicated or expensive. Investing in a useful tool like a blender can simplify making healthy meals that work on the go. Blenders also have a tendency to get expensive—touting features you probably won't ever touch. Sometimes you just need a simple, reliable gadget to help you achieve your health goals. These blenders don't sacrifice quality for a cheaper price tag—in fact, they come in under $100 and highly recommended. Take advantage of any of these finds and don't start your journey to a more healthful you in debt.
When it comes to blenders, there is no more trusted brand than Ninja. The blender itself has 1100 watts of power and comes with with 3 speed settings, pulse, and single-serve functions. The Ninja blender has a 72 oz pitcher that is perfect for crushing ice into oblivion—perfect for those healthy morning smoothies. Plus, it comes with two 16 ox "Nutri Ninja Cups" with to-go libs to help your take your healthy breakfast with you out the door.
We're cheating here: NutriBullet doesn't technically consider themselves a "blender," per say. The NutriBullet system is mainly targeted at people looking to make their morning meals healthier. With a 600 watt powered motor, the NutriBullet can crush veggies, fruits, and nuts and blend them together for a healthy, nutrient-dense smoothie. Unlike a juicer or traditional blender, the NutriBullet nutrient extractors "break down the cell walls of fibrous plant foods, releasing important vitamins and minerals contained within. At the same time, they reduce beneficial fiber, pulp, seeds, and skins into a smooth-as-silk texture, delivering food to your body in an easily digestible, easily absorbable form." This way your body can make the most of every part of the healthy blend.
With a ton of power—1450 watts of it, to be exact—this blender is a game changer. At the brink of our price threshold, this baby is worth every penny. This blender has 8 variable speeds to use as a control to achieve a variety of texture for your blender—whether you like 'em silky smooth or with a little bite. It also has four pre-programmed settings making it easy to use. Blending isn't all it can do: You can use it to stir, chop, mix, puree, or liquify with the help of those pre-programmed settings and desired speed levels. Of course, it also makes perfectly blended drinks and smoothies using it's "ice-crushing pulse" feature.