'Game of Thrones' Emmy snub is a bad omen for the prequel shows
HBO can't coast on 'GoT's success forever.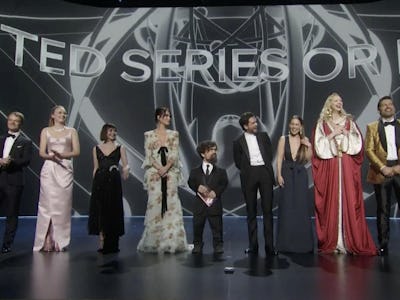 FOX
The Emmys should have been a victory lap for Game of Thrones. Instead, the 2019 Television Academy award show was a relative failure for the final season of HBO's biggest series ever. It's also a stark warning that the upcoming GoT prequels wont be able to simply coast on the success of the original if they hope to achieve similar success.
Even before the results came in, you could tell this wasn't GoT's night. Earlier in the evening, as the Game of Thrones cast assembled onstage to present another award and bid a scripted farewell to their own series, you could practically see Maisie Williams and Sophie Turner squirm as they stumbled through the words, "I think we all agree how amazing the last season was for us."
It felt more like a hostage situation than an awards show.
What went wrong for Game of Thrones at the 2019 Emmys?
Submitting the mediocre final episode, "The Iron Throne," for Best Directing (along with two others, "The Last of the Starks" and "The Long Night") was a mistake, splitting the vote and ignoring Season 8's best episode, "A Knight of the Seven Kingdoms."
HBO similarly split the Best Supporting Actress vote between Lena Headey, Turner and Williams, while an overlooked Gwendoline Christie nominated herself. In the end none of them won. Kit Harington and Emilia Clarke also lost in their respective categories, suggesting that neither of the Season 8 leads did enough (or were given the opportunity to do enough) to earn an Emmy.
There were a few bright spots, but none of them came as much of a surprise. Game of Thrones won Best Drama, which felt slightly unearned for the underwhelming eighth season but still undeniable considering the show's broader legacy. Meanwhile, Peter Dinklage won for Best Supporting Actor (his fourth for the role of Tyrion Lannister). Both wins seemed to honor the series as a whole, rather than endorsing GoT Season 8 specifically. In other words, seven great seasons weren't enough to push the disappointing finale to a decisive victory.
So … what does this have to do with Game of Thrones prequels?
From a plot perspective? Nothing. No one mentioned HBO's planned GoT prequels, which currently include a Night King origin story that might be called "The Long Night" and a Targaryen history series based on George R.R. Martin's companion book, Fire and Blood. None of the Game of Thrones cast or the showrunners are involved in either of the prequels.
With both prequels introducing totally new characters and taking place hundreds (or even thousands) of years before the events of Game of Thrones, these shows will have to earn their own fandoms and critical acclaim. If the 2019 Emmys are any indication, simply slapping the words "inspired by HBO's hit series Game of Thrones" won't be enough to win anyone over.
I'm still cautiously optimistic about both prequels: the fact that David Benioff and D.B. Weiss aren't involved is reassuring, to say the least. If anything, maybe GoT's Emmy snub will be the motivation HBO needs to deliver a truly great spin-off that can salvage the damage done to Game of Thrones by the show's final season.