Marvel's 'Black Widow' just cast a bunch of potential Red Room assassins
Seven actors join the MCU Phase Four film in unknown roles, which can only mean one thing.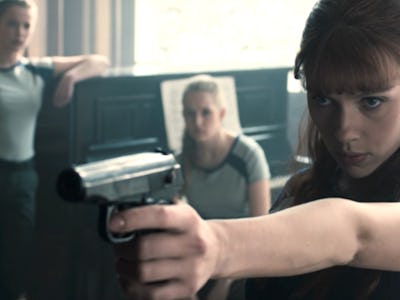 Marvel Entertainment
Natasha Romanoff is going to be very busy in her solo movie, Black Widow. Over the past week, a handful of actors cast in the 2020 Marvel Phase Four movie confirmed their appearance in the film on their social media accounts. Most, if not all of them are women with formal, academic training in theater and dance, which can only mean one thing: They're assassins, y'all.
Since last week, the IMDB page for Marvel's Black Widow have added many new names to the film's cast: Simona Zivkovska (Devils), Yolanda Lymes (The Take Down), Jade Ma (Surviving Christmas with the Relatives), Shaina West (Black Widow is her feature film debut), and most recently, Georgia Curtis (Undone), Tabby Bond (Nuryan), and Yasmin Riley (Captivated).
That's seven new actors for Black Widow, a film that already has a stacked cast that includes the returning Scarlett Johansson, plus Florence Pugh, David Harbour, Rachel Weisz, and a heavily rumored Robert Downey Jr.
That's a lot of actors whose roles have not been disclosed! Based on what we know about Black Widow, the internet (and heck, us included) believe the seven actors will play operatives in the Red Room, the top-secret Russian training facility that trained Natasha Romanoff into the Black Widow.
While many of the aforementioned actors have credits in theater and film, they also have experience as martial artists or dancers. West, who goes by the stage name "The Samurider," is a self-taught martial artist, as is Lynes. Meanwhile, Bond studied at Performers College where she learned various forms of dance including contemporary, freestyle, and ballet.
As all super secret evil organizations do, the Red Room in the Marvel Universe recruits (or kidnaps) orphan girls and trains them to become agents. That training, besides combat and espionage, also includes dance, a staple in many Hollywood depictions of Russian spy academies.
While the specifics remain vague, we know Natasha escaped the Red Room to join S.H.I.E.L.D., where she became one of its top agents before joining Iron Man, Captain America, the Hulk, Thor, and Hawkeye to form the Avengers. In the movie Avengers: Age of Ultron (2015), Natasha suffered flashbacks to her time in the Red Room, where she was trained to seduce and kill her targets.
It is, again for the record, not confirmed what roles the seven new stars of Black Widow will play in the first film of the Marvel Cinematic Universe's "Phase Four." All of the actors' roles on IMDB are blank as of this writing. But, come on, they're all totally Red Room agents who are going to try to kill Natasha, who dared to leave the Red Room and go public as the Black Widow.
Granted, Natasha is already dead from the events of Avengers: Endgame, so their efforts will be futile. But at least we'll see Natasha single-handedly fight off assassins like they're Putties in Power Rangers, which is more than worth the price of an IMAX ticket.
Black Widow will be released in theaters on May 1, 2020.