Kylo Ren completes a failed Darth Vader mission in new 'Star Wars' comic
Like grandfather, like son. Tom Taylor's 'Age of Resistance - Kylo Ren' #1 will bring Ben Solo to the same ground Darth Vader walked.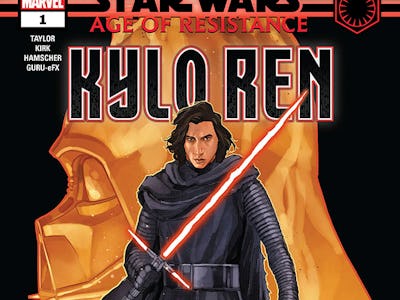 Marvel Comics
Kylo Ren is such a fanboy for his grandfather, Anakin Skywalker, he literally walks in his footsteps. In a new Star Wars comic releasing September 25, Ben Solo revisits a remote planet, and the site of one of Darth Vader's failures.
Accompanying him is an old Stormtrooper, donning the armor of the Empire while the new generation of First Order troopers surround him.
On September 25, Marvel will publish the next one-shot single issue story in its Age of Resistance mini-series, Age of Resistance — Kylo Ren #1 written by Tom Taylor (DCEased, Justice League/Mighty Morphin Power Rangers) that functions as a tie-in to the upcoming film Star Wars: The Rise of Skywalker.
The comic, StarWars.com teases, "will finish what Darth Vader started." On the planet Benathy, where Darth Vader had "failed" negotiations with the locals. "They're a proud race," says Captain Ruthford, a veteran Stormtrooper still wearing old Empire armor than the new First Order digs ("I should be allowed a certain degree of comfort," he explains to a First Order trooper).
The Benathy, Ruthford tells Kylo Ren, are "a proud race. Stubborn. They value size and strength above all else."
"Why is why I have come," Kylo Ren says.
As the illustrations reveal, decades prior Captain Ruthford accompanied Darth Vader to the same planet, where the Benathy (Benathians?) held their ground, though Vader did "manage to subdue them."
Kylo Ren acknowledges that he walks in his own grandfather's shadow, and seems to worship the ground where he stood. "There is glory here," Kylo Ren says, though the captain disagrees. "There are only wasted lives."
See the preview pages of Age of Resistance — Kylo Ren below. The comic features illustrations by Leonard Kirk and cover work by Phil Noto.
Ahead of The Rise of Skywalker, Marvel's Star Wars comics have dived deeper into the psyches and stories that make these galactic heroes (and villains) tick. Just recently, another Tom Taylor joint in the Age of Resistance mini-series, Supreme Leader Snoke #1, revealed some of the training Kylo Ren underwent from the still-mysterious Snoke.
And Snoke wasn't exactly Mr. Miyagi to Kylo, with training that included hovering Kylo hundreds of feet over a cliff and letting him plunge straight down. (Don't worry, he made it out just fine.)
Star Wars: Age of Resistance — Kylo Ren #1 will be released on September 25.