McDonald's Is Going to Automate Its Drive-Thru With A.I.
"May I take your order, human?"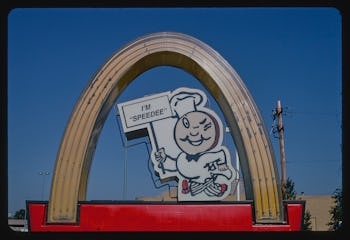 Flickr / The Library of Congress
Pretty soon you might be going through a McDonald's drive-thru and find yourself talking to a robot. The massive fast-food chain just acquired a tech company called Apprente, which is focused on using artificial intelligence to automate the drive-thru. Rather than having a person take your order, the system could simply listen to your order and send it to the people who will prepare it for you.
Apprente will form a new division within McDonald's called McD Tech Labs, and the members of this group will soon begin work on automating the drive-thru. As Wired notes, Apprente has developed a system that is meant to interpret someone's meaning, rather than just what they said, which should help the AI produce an accurate order. Allegedly, it's even equipped to handle complex order changes.
Itamar Arel, co-founder of Apprente and vice president of McD Tech Labs, said in a statement that their team is excited to work for the fast-food chain.
"McDonald's commitment to innovation has long inspired our team. It was quite clear from our various engagements that McDonald's is leading the industry with technology," Arel said. "Apprente was borne out of an opportunity to use technology to solve challenging real world problems and we're thrilled to now apply this to creating personalized experiences for customers and crew."
McDonald's has been making moves in the tech realm more and more as it strives to automate the ordering process and streamline fast-food service generally. The company started installing ordering kiosks inside its restaurants back in 2015, and it's been working to put them in every McDonald's franchise since. Research shows people actually tend to order more food when they're selecting items on a kiosk than when they're ordering from the menu with a cashier, and it's believed this is partially because people feel less anxious when they're placing the order themselves. Personally, I think it's also because it's fun to hit the buttons on the screen.
McDonald's has been doing more with technology than this latest acquisition and the kiosks, though. In March, McDonald's bought Dynamic Yield, which is a company that uses machine learning to improve order menus. In a drive-thru or a kiosk, for instance, the algorithm might change how the menu appears based on the time of day or suggest things to order based on what you've selected so far.
McDonald's isn't alone in automating the fast-food experience. Wendy's started installing self-service kiosks in its restaurants a couple years back, and Jack in the Box appears to be getting ready to do the same. McDonald's may be the first to automate the drive-thru, though.
These fast-food chains like to say jobs won't be lost to this kind of automation, but it seems likely that will happen eventually. At first it's just a way of making these jobs less complicated, but eventually there might not be many jobs left for a human to do in the fast-food industry.