Busy people need nutrition, too. Try these awesome protein bars available on Amazon.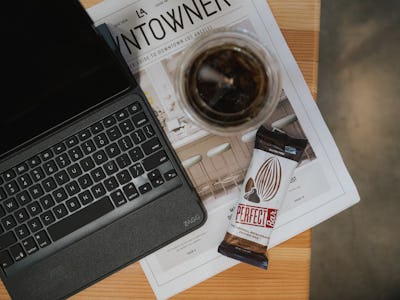 Unsplash / Perfect Snacks
If you live any kind of lifestyle that doesn't have a built-in lunch break, it's easy to find yourself with a growling stomach, a headache, and a host of other issues before you even have time to think about whether or not you're hungry. Don't blame yourself. We're busy people, and now that we're not in school anymore, this isn't a designated time to eat. Instead, we have to tune into our body's natural signals and make the best effort to establish a routine for ourselves that pays respect to the work our bodies do so faithfully.
But this isn't an excuse for continuing to deprive your body of vital nutrients. Instead, you can opt for a nutritious, no-work-necessary protein bar. Perfect for busy bodies, frequent travelers, parents, and anyone else who needs a convenient meal replacement option, below you'll find the best protein bars available on Amazon. Before you know it, you'll have them on regular delivery and your afternoon slump will be a thing of the past.
Why We Picked It: Who doesn't love chocolate? If chocolate alone isn't enough incentive to get you to eat something, all the nutritional benefits to convince you. With 20 grams protein, 4 grams net carbs, less than 1 gram of sugar and 14 grams of fiber per bar, everything you've been telling yourself you'll consume more of is already baked into this awesome chocolate treat. At about $2 per protein bar, this protein snack option is cheaper than what you'd spend anywhere you could take out lunch.
Why We Picked It: If you're the type of person that likes to be able to pronounce the ingredients in your food, RX Bar is perfect for you. All the ingredients are printed clear as day on the packaging. Certified Gluten free, Whole30 and Paleo friendly, RXBar combines chocolate and peanut butter together to entice you into getting the fuel you need to keep going. Ideal for breakfast, lunch, pre/post work out and even an after dinner snack, you'll fall in love quick.
Why We Picked It: If you're the type of person who gets easily bored with the same meal options every day, this 16 count variety pack of Clif Bars is perfect for you. They're naturally dense and high in protein, fiber and carbs to keep you feeling full and energized longer than comparable products. Conveniently portioned and packaged, Clif Bars are made with non-GMO ingredients. Before you know it, you won't leave home without one in your bag or pocket.
Why We Picked It: Why sacrifice your favorite flavors when you don't have to? Just because you can't have raw chocolate chip cookie dough for every meal doesn't mean you can't feel like you are. Designed to be crave-able, this healthy take on cookie dough from Quest Nutrition has 21 grams of protein, 4 grams of net carbs, less than 1 gram of sugar and 14 grams of fiber per bar. What more can you ask for?
Why We Picked It: As much as we'd all have to have cake for every meal—and if you work in an office where birthdays and holidays are frequently celebrated, you might be cutting it close—it's just not healthy. For the days you really want to have birthday cake, but it's no one's birthday, opt for this brilliant on-the-go protein bar. 20 grams of protein will fill you with the fuel you need to get your entire to-do list completed with energy to spare.