Amazon Employees Join Global Climate Walkout: "The Planet Is F*cked"
"Everything is on fire, and it's not fine."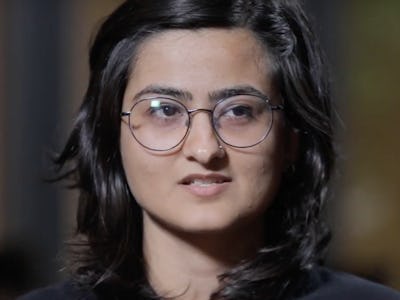 Amazon Employees for Climate Justice
A group of nearly 1,000 Amazon employees is joining the Global Climate Strike on September 20, which is coordinated effort to get people to leave their place of work to protest the use of fossil fuels.
According to a petition being circulated at Amazon, the employees — Amazon Employees for Climate Justice — want their company to achieve zero emissions by 2030, eliminate contracts with fossil fuel companies and end any funding to "climate denying lobbyists and politicians."
In a video announcing the walkout, Amazon employees say "the planet is fucked" and "the planet is on fire, and it's not fine."
The petition quotes Amazon CEO Jeff Bezos saying that climate change is the most important issue we're facing but goes on to note that Amazon "contributes directly to climate change" through its use of fossil fuels, its funding of climate-denying politicians and think tanks and more.
"Amazon is one of the world's most innovative companies. We pride ourselves on being a leader," the petition reads. "But in the face of the climate crisis, a true leader is one who reaches zero emissions first, not one who slides in at the last possible moment."
The Climate Strike is happening right before the United Nations Climate Action Summit on September 23, and it's being led by 16-year-old climate change activist Greta Thunberg. As Wired notes, this is the first time Amazon employees have done a walkout at the company's headquarters in Seattle.
That said, this is not the first time Amazon employees have demanded that Bezos act to slow climate change. Back in May, Amazon shareholders rejected a request for the company to reduce its use of fossil fuels and create a plan to tackle climate change that was supported by over 8,000 Amazon employees. According to The Motley Fool, Amazon has been one of the slowest major tech companies to adopt a plan to switch to renewable energy at its offices.
Amazon does own a wind farm in Texas, and it has committed to making half of its shipments carbon neutral by 2030, but it's clear many of Amazon's employees think the company could do more. After all, Amazon is the world's most valuable brand.
Amazon employees won't be the only ones not clocking in on September 20. Businesses like Ben & Jerry's, Patagonia, and Lush Cosmetics are also going to be taking part in the Climate Strike. Those companies are choosing to be part of the strike, though. Amazon employees are walking out on their own.
Matthew McCarthy, CEO of Ben & Jerry's, said in a statement last month that his generation should consider their place in history.
"My generation will be judged harshly for not acting in the face of a clear, scientific consensus around the crisis of climate change," McCarthy said. "We adults must now follow the lead of youth activists who are demanding a safe and sustainable future. I am inspired by the energy and determination of this youth-led movement and I am committed to helping them succeed."
According to reports, Amazon employees in Europe and beyond are considering joining the climate walkout, so might see the number of people taking part grow quite a bit in the next week or so.
"Amazon contributes directly to climate change through intensive use of fossil fuels throughout our businesses and pollutes communities with our fossil fuel infrastructure," write the petitioners in a post on Medium. "We have custom solutions to help oil and gas companies accelerate extraction and exploration of new oil and gas reserves; we're funding the premier climate denying think tank and we funded 68 members of Congress in 2018 who voted against climate legislation 100 percent of the time."