Facebook Dating Has Arrived:Will People Actually Use It?
We're not really sure how many people wanted this.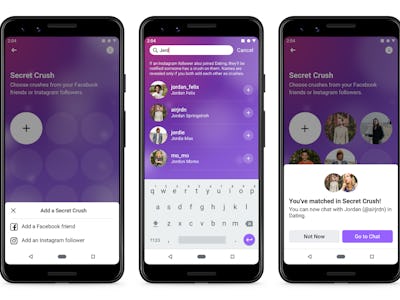 Facebook
We all know you've been eagerly awaiting this day. Facebook Dating has officially arrived. In a blog post on Thursday, the social media company announced Facebook Dating will connect users through their similarities, including their interests, events and groups.
All Facebook users have to do is opt-in and set up their dating profile to get started. It is strictly for users who are 18 and older. Facebook says it wants to keep people safe and comfortable, so it's included features to help ensure that.
"We worked with experts in these areas to build protections into Facebook Dating from the start, including the ability to report and block anyone; prohibiting people from sending photos, links, payments or videos in messages; and by providing easy access to safety tips," the post reads. "These features and others give you more control and peace of mind."
Facebook Dating isn't like Tinder or Bumble, as there's no swiping. Users simply look at people profiles they've been recommended and like people, pass on them, or comment on their profile. If you like one of your friends, Facebook allows you to use their "Secret Crush" feature to add them to your list and see if anything happens.
We're not really sure how many people wanted this, but one would imagine it could be popular with the older crowd, considering Facebooks user base has been getting older in America. People on Twitter largely seem uninterested, as you can see.
But one user did enjoy the gender options, which include woman, man, trans woman, trans man, and non-binary person.
As our own Danny Paez commented in May, Facebook Dating could actually be a juggernaut, even if we make fun of it non-stop. That's because Facebook has so many users, is all over the world and the fact it's based on people actual real-life social networks. Facebook Dating could just be another dating app option in America but the most beloved dating app in Singapore and Brazil. We just don't know yet.
William Chopik, a social-personality psychologist and assistant professor at Michigan State University, told Paez in May that Facebook's approach could be a recipe for success when it comes to actually matching people.
"Based on polling data, the most common ways people meet is through friends in common followed by in a social setting, like an activity or group event," he said. "Based on those things alone, facilitating the ways that people most commonly meet sounds like a promising direction. In this way, Facebook Dating has a considerable advantage because other apps."
As Alex Berg of BuzzFeed News joked about in the tweet above, Americans might be hesitant to join this dating app due to Facebook's recent privacy-related problems. They may think giving Facebook even more data for the social media giant to possibly mine is not in their best interest. That said, Americans are known for giving up their privacy if they see a reward on the horizon, and people are definitely struggling to meet these days.