Solar Energy: World's First Virtual Power Plant of Its Kind Coming to Utah
The project is coming to the town of Herriman.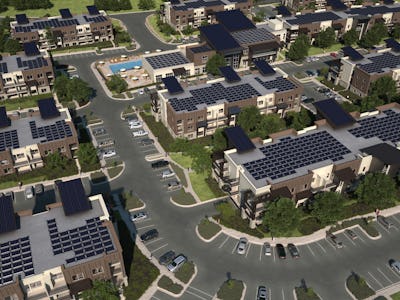 Sonnen
A groundbreaking solar energy solution is set to be completed next year, and its developers claim it could rank as the largest virtual power plant of its kind in the United States.
Soleil Lofts, an under-construction luxury apartment complex in the Utah city of Herriman, announced Tuesday that it will host the largest renewable energy setup of its kind. The 600-unit complex, a mix of one-to-three-bedroom apartments, will feature five megawatts of solar panels. Each unit will also host a Sonnen EcoLinx battery to store the energy, combining together to offer 12.6 megawatt-hours of storage.
Virtual power plants could offer a blueprint for how to roll out solar energy on a larger scale. As opposed to the traditional grid setup where a giant power plant provides energy to several smaller homes, in a virtual solar power plant all those homes generate and store energy. The energy is then shared around the community as it is needed, and the battery ensures that it's always available even when the sun is not shining. There's no single point of failure, it's scalable, and the whole area benefits regardless of their house's ability to contribute.
The group refers to the energy storage project as "the largest installed and operational utility managed residential battery demand response solution in the United States." A Sonnen spokesperson also describes it to Inverse as the world's first residential apartment virtual power plant.
"This project is the United States' first large scale, utility controlled residential VPP community in, for immediate implementation — a cooperative approach between Wasatch and Rocky Mountain Power, the local utility," Blake Richetta, chairman and CEO of battery provider Sonnen, tells Inverse.
Far from hoarding energy for individuals, a virtual solar power plant could spread around zero-emissions energy so it reaches more people than ever.
"The combination of solar and long-lasting, safe, intelligent energy storage managed by the local utility is an essential component to the clean energy grid of the future," Richetta said in a statement. "The solar industry should find inspiration in this extraordinary project, as it provides a blueprint for the future of grid-optimized battery storage."
Virtual Power Plant: How Utah Is Going Green
Virtual power plants are nothing new. Tesla received approval in May 2018 to establish a South Australian plant in 50,000 homes, a scheme that ranks as the world's largest virtual power plant. The company also enabled a similar scheme in Massachusetts and Rhode Island, where existing solar users could opt in to pool their energy. One scheme in Vermont enabled the local power company to call on 500 Tesla Powerwall battery systems during a July 2018 heatwave.
Sonnen is now stepping up to the challenge, with a project that could help Utah boost its clean energy credentials — around 14 percent of the state's energy comes from clean sources. Local utility company Rocky Mountain Power will use the Herriman batteries to provide emergency power, manage peak energy use and even out the grid. There's even room for over 100 electric car chargers to fuel the future of transportation in the area. The Wasatch Group real estate team developing the project expects the first residents to move in by September 2019 and the final building to finish construction by December 2020.
"The holistic cooperation and pragmatic approach taken by RMP, Wasatch and Sonnen has truly helped to 'crack the code' — creating a viable and scalable solar plus storage architecture, for the greater good of society," Richetta tells Inverse.
Sonnen may not have the same brand recognition as Tesla, but the German firm has strong accolades to its name. The firm is Tesla's second-biggest rival, claiming 19 percent of the American energy storage market versus Tesla's 30 percent. It's based in the Bavarian village of Wildpoldsried, a community powered entirely by renewable energy. It has a manufacturing facility stateside in San Jose and a headquarters in Los Angeles. In February 2019, oil giant Shell agreed to acquire Sonnen in its entirety, and as of March it operates as a wholly-owned subsidiary.
This is not the first large-scale project from Sonnen. In October 2017, it unveiled plans for a 2,900-home project in Arizona with 11.6 megawatts of solar output and 23 megawatt-hours of energy storage. Each house packs 3.9 kilowatts of solar and an eight-kilowatt-hour battery, with the option to upgrade to an eight kilowatt solar and 16-kilowatt-hour battery at a later date.
The homes, however, are rolling out at a rate of around 200 to 300 per year according to UtilityDive, meaning it will take around 15 years for the project to reach full completion. A Sonnen spokesperson also explained to Inverse that the Arizona project is not a virtual power plant because there is not yet a utility contract associated with the project.
With that in mind, the Utah project looks set to turn heads when Sonnen hosts a more official unveiling in Salt Lake City during the week of September 23. The event will be held in conjunction with the Solar Power International show.
"Not only does Soleil Lofts all-electric community help improve air quality along the Wasatch Front in Utah, the project will create a platform for managing batteries for other customers we serve, as well," Gary Hoogeveen, Rocky Mountain Power CEO, said in a statement. "This partnership enables an innovative solution to provide low-cost utility services, not otherwise possible."