Before 'Deadpool' and 'Game of Thrones,' Ed Skrein Was a Pretty Good Rapper
Revisiting his brief career behind the mic.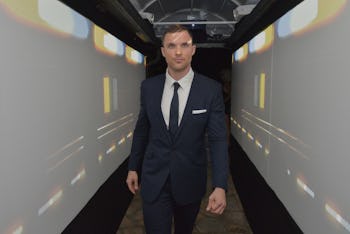 Charley Gallay/Getty Images for Playboy
Before Ed Skrein was in Game of Thrones, Ajax in the upcoming Deadpool film with Ryan Reynolds, and the successor to Jason Statham in The Transporter Refueled, he was a rapper. Rapping simply as "Skrein," his first release was 2004's Mind Out / Once Upon a Skrein EP, which he followed up with his only solo LP in 2007, The Eat Up. He also had a throwaway "mini-album" that year with rap trio A State of Mind, Pre-Emptive Nostalgia. Since then, he's had features here and there, but Skrein's rap career faded as his acting profile grew. So much for "With me and hip-hop, nothing can come between" from "Mind Out."
Conventional wisdom might lead you to think that a pretty boy actor must not have been a great rapper. Why would he quit if he were really good? Skrein's not the world's best rapper, but he certainly holds his own and even excels at times. He strives for a deliberately underground sound, seemingly drawing from a youth full of A Tribe Called Quest and the adolescent discovery of Aesop Rock. There's a jazziness to his beats, as well as plenty of piano. He often raps about "big topics" (as on "Youth"), as well as rap tropes of struggle, like being better than the mainstream. The EP is his best work, largely because it's brief at only six tracks (three songs and their corresponding instrumentals).
On "Once Upon a Skrein," the EP's standout track, he displays a solid sense of humor. I mean, the title's a silly riff on his own name. He begins his second verse, "Tequila, strawberries, ginger beer / Has got me thinking clear / 'Cause the gentleman gets blurried just drinking beer, listening to Cher." He might be struggle rapping, but even he realizes it's a bit much to glorify too greatly. The hook goes, "Spark it, shit on the carpet, and pass it," hardly glamorous.
His proper album, The Eat Up, is far more ambitious than his smaller projects. He's more of a story teller, but his tales are often ridiculous. On the horrorcore cut "How's It Feel," for example, Plan B plays a homicidal character who prompts Skrein to do his dirty work. It certainly recalls The Slim Shady LP and Fight Club when it turns out that Skrein was both personalities. It's a pretty gross track, especially when Plan B brutally describes raping a woman, and Skrein's only protest is "that's illegal." (He also kills someone who allegedly called him "gay.") Unfortunately, the orchestral beat is actually quite pretty.
Elsewhere, there's a four-minute skit of a Scottish man — Crazy Tone the Crackhead — questioning Skrein's virility. Although gruesome, his rapping holds up, and the entire LP isn't so icky. "Where It All Started" is a nice, personal origin story — even if it sounds trite. "Listen!" has some solid, straightforward bars over a nice bass guitar sample. If nothing else, his Camden accent is enjoyable to listen to.
Ed Skrein's rap career would've been pretty middling, and there are already a ton of capable-yet-unexciting rappers plying their trade. He's certainly found a lot more success in Hollywood than he would've on the freestyle circuit. Still, he's only 32 and obviously has a much higher profile than he once did. Maybe we haven't seen the last of Skrein.